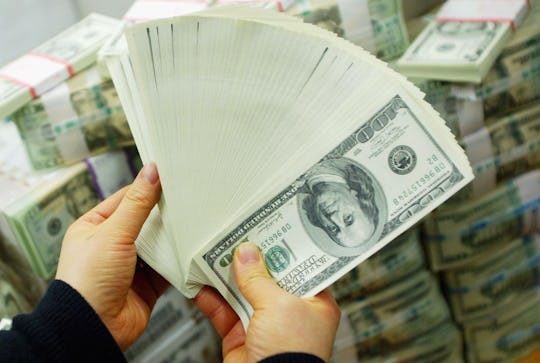 Chung Sung-Jun/Getty Images News/Getty Images
Americans Are Spending A *Lot* Of Money This Mother's Day
It's pretty safe to say that a lot of Americans feel like corporate industries have completely overtaken many a national holiday. From Valentine's Day to Memorial Day to Thanksgiving, and just about everything in between, it can seem as though holidays have become nothing more than a semi-valid excuse for retailers to advertise their products even more. And if you've been outside, online, or in a store at all during the month of May, you're aware that Mother's Day is a prime example of that trend. Of course, loving on your mom is awesome, but the fact is, Mother's Day spending will reach an estimated $23.6 billion this year — and that number is set to break records.
According to the National Retail Federation's latest consumer survey, Mother's Day 2017 will be shattering some records. "Total spending is expected to reach $23.6 billion – the highest in the survey's 14-year history, topping last year's previous record of $21.4 billion," the NRF explained in a statement recently. And a lot of that money will be going towards greeting cards.
Obviously, finding a sweet or funny card that's just perfect for your mom is awesome, but really, not every mom wants another card, or flowers, or a special outing (the top three gifts people expect to get their moms this year) — some moms just want a sweet phone call or even a surprise visit. In fact, a recent survey by Wakefield Research for Chicco NaturalFit showed that 85 percent of millennial moms simply wanted "to receive acknowledgement from family and friends that they're doing a good job, rather than flowers."
Of course, if mom does want a nice spa day or a new pair of noise-cancelling headphones, then that's OK, too. But whatever the case, that $23.6 billion price tag still feels pretty high.
And for those who are shelling out for their mother or mother figure, there are plenty of options to help tip the scales into record-breaking territory: The flower industry, in particular, really blooms this time of year, with "Mother's Day seeing the largest annual spike in sales, accounting for over $152 million in 2016 alone," according to a recent report by The Nielsen Company. According to BuzzFeed, "The restaurant industry is preparing to serve 92 million people on Sunday" as well.
In the end, no matter what your plans are today, if you're lucky enough to be celebrating the day with your mom, you're lucky enough. Moms truly are some of the best people in the world, and they deserve to be treated as such. Whether you're spending $100 today, or aren't contributing to that $23.6 billion spending total at all, letting your mom know you love them and appreciate them is the best gift out there.