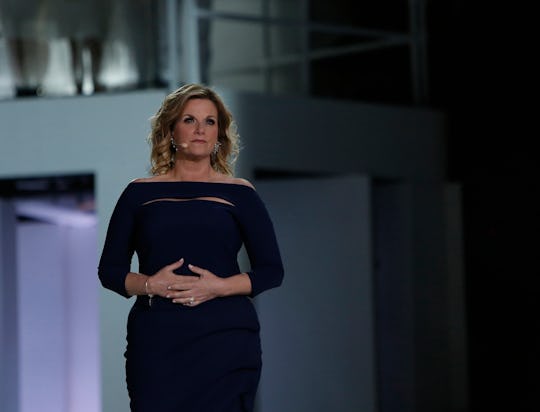 Steve Deitl/FOX
Mothers' Reactions To 'The Passion' On Twitter Are Heartbreaking
Watching The Passion may be reminding us of a lot of things (such as Bible stories and emotional '90s hits) but it's also making a few mothers hold onto their children just a little bit tighter. Singer and actress Trisha Yearwood transformed into Saint Mary for FOX's Biblical musical, and it was an emotional affair. Yearwood told People that the role took a toll on her, but she wasn't alone: Most moms' reactions to The Passion on Twitter were definitely emotional, as well.
"I'm having to sing songs that I'm going to be singing at the foot of the cross, and I had to be thinking about what was happening in the story when I was singing the song," Yearwood told People recently. "I got very emotional, which is not the norm for me in the studio. That was the last time I've cried."
During the show, Yearwood sang Whitney Houston's "My Love Is Your Love", "I Won't Give Up" by Jason Mraz, "Hands" by Jewel, "Broken" by Lifehouse, and "You'll Never Walk Alone" from the Carousel musical. Yearwood definitely played a huge part in the FOX musical, and her touching renditions had the intended emotional effect: Mothers across Twitter tuned in to share how her role affected them.
Before playing Mary on The Passion, Yearwood told CMT in an interview, "I'm confident as a singer, but it is daunting. I have to be able to immerse myself in it emotionally, and I don't mind getting emotional, but there's an ugly Yearwood cry that can happen, and if it does, I would not be able to sing."
Don't worry, Yearwood. Everyone else cried instead.