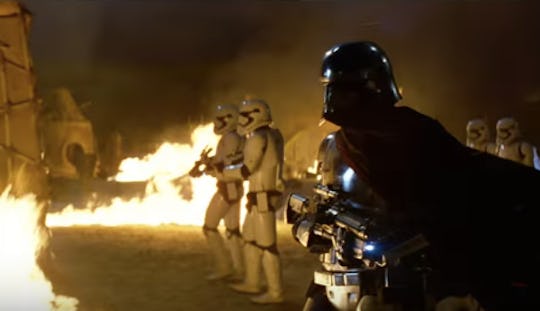 Star Wars/YouTube
Movie Posters For 'Star Wars: The Force Awakens' Are Here, & They Look Pretty Badass
As if you weren't already pumped for the new Star Wars film out this December, Disney just dropped five new character posters for Star Wars: The Force Awakens on Wednesday. We've got character posters for Rey, Finn, Kylo Ren, Han Solo, and Leia. And you know the studio is just as excited as we are about these posters, because they've blasted them all over their official website and social media accounts. 
Don't worry — no spoilers to be found in this batch of posters. Here's what we know so far about the new Star Wars film and its cast of new and returning characters: Rey (played by the lovely Daisy Ridley) is a "resilient scavenger" according to the official Star Wars website. Finn (played by actor John Boyega) is a "trained warrior" who appears to be at a crossroads with his loyalties. We still don't know much about Kylo Ren, the masked villain played by actor Adam Driver. Joining the cast of Star Wars newbies are the series' canon characters Han Solo (played by actor Harrison Ford) and Leia (Carrie Fisher). Still no photos or posters yet of Mark Hamill's return as Luke Skywalker. 
Now hold onto your lightsabers, because these posters are pretty awesome.
Daisy Ridley As Rey
John Boyega As Finn
Adam Driver As Kylo Ren
Harrison Ford As Han Solo
Carrie Fisher As Leia
Star Wars: The Force Awakens arrives in theatres on December 18, 2015.
Images: The Force Awakens/Twitter; Star Wars/YouTube