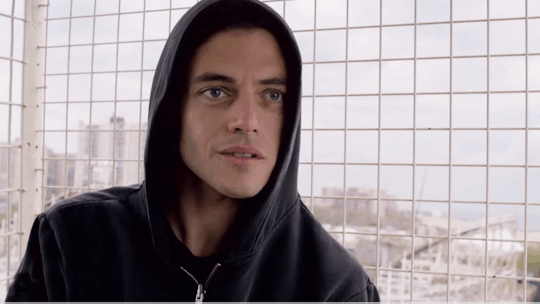 'Mr. Robot' Wins Best Drama At The 2016 Golden Globes, Edging Out Major Contenders
Award season is officially underway as the 73rd annual Golden Globes aired Sunday, Jan. 10th on NBC. It was a successful night for underdogs, at least on the TV front, with Mozart in the Jungle winning Best TV Series - Musical or Comedy and Best Actor in a TV Series - Musical or Comedy, Rachel Bloom winning Best Actress in a TV Series - Musical or Comedy for Crazy Ex-Girlfriend, and then Mr. Robot won the Best TV Series - Drama Golden Globe.
Mr. Robot, for those who don't know it, follows an anti-social computer programmer by the name of Elliot, who moonlights as a vigilante hacker. He joins a mysterious underground organization, fighting corporate American one Trojan horse (that's how computer hacking works, right?) at a time.
The odds against the show in this category almost can't be overstated. For one thing, it's a new show. Secondly, it was up against Empire, Game of Thrones, and Narcos, three incredibly popular series with massive fan bases and media attention. Mr. Robot has been critically acclaimed since it premiered June 24, but still, the award was by no means a given. The show's actors, Rami Malek and Christian Slater, were also honored with nominations for Best Actor and Best Supporting Actor, but neither won his category.
Director Sam Esmail's acceptance speech was pretty adorable:
I gotta thank the Hollywood Foreign Press. I mean, they gave the best drama series award to a show called Mr. Robot. And that took a lot of courage, so thank you.
He's not wrong, so bravo to the Hollywood Foreign Press and bravo to Mr. Robot, the little hacker show that could.
Not only is it fun to see an underdog succeed against popular and well-known big names, the 2016 Golden Globe gave us all a few new shows to add to our "must watch" list.
Image: Universal Cable Productions