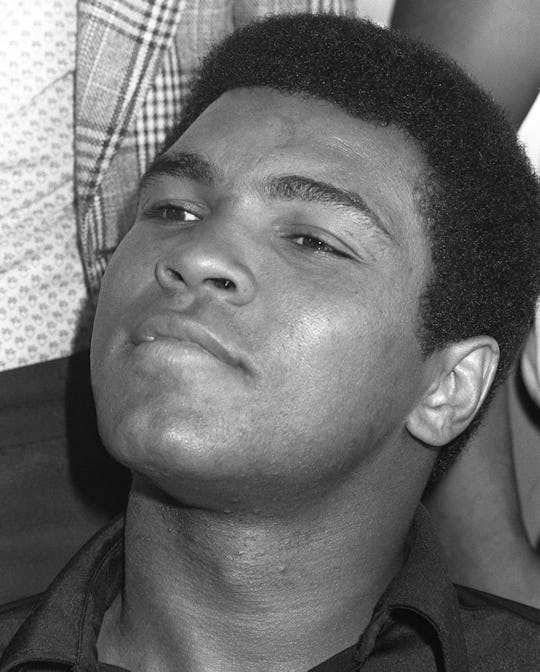 AFP/AFP/Getty Images
Muhammad Ali Dies At Age 74, Leaving The Entire Sports World In Mourning
After being hospitalized for a respiratory issue on June 2, boxing legend Muhammad Ali died on Friday, leaving behind a trail of momentous victories, lifetime achievements, and devastated sports fans alike. Family spokesperson Bob Gunnell confirmed in a statement earlier in the week that Ali had been checked into an undisclosed Phoenix-area hospital and was battling what was reported to be pneumonia, although the spokesperson told reporters that the former boxer was in "fair condition" and would not specify further. On June 3, unnamed inside sources claimed to Radar Online that Ali's condition had worsened and that he had been placed on life support.
"Doctors are telling the family that it likely won't be long until he passes away," one source reportedly told Radar on Friday, mentioning that there had been discussions about transporting Ali to a nearby hospital, but the boxer's status was too severe, and the move was reportedly called off. By late evening his condition had progressed; Ali died hours later.
Spokesman Gunnell confirmed the news of Ali's passing in a public statement on Saturday morning just after 12 a.m. ET. "After a 32-year battle with Parkinson's disease, Muhammad Ali has passed away at the age of 74," the spokesman said. "The three-time World Heavyweight Champion boxer died this evening. The Ali family would like to thank everyone for their thoughts, prayers, and support and asks for privacy at this time."
Ali, known by fans and most of the world as "The Greatest," was born Cassius Marcellus Clay Jr. in Louisville, Kentucky in 1942. Early in his boxing career, which began in the early '60s, Ali made a name for himself by consistently stacking the deck with undefeated streaks and record matches. In 1963, Ali cemented his place in history by defeating then-Heavyweight champion Sonny Liston in a six-round fight, in which Ali was declared the victor by TKO. It was during that fight that Ali coined the phrase "Float like a butterfly, sting like a bee" to summarize his boxing style against the favored Liston.
The two met two year later for rematch, which Ali (at this point, the fighter had converted to Islam and changed his name officially from Clay to Ali) won by TKO once more. According to The New York Times, the entire fight lasted less than two minutes — 1 minute and 52 seconds to be precise. Throughout the rest of his storied career, Ali went on to face such high profile fighters as Ernie Terrell, Floyd Patterson, and later, George Foreman.
Outside of the boxing world, Ali dedicated himself to boldly stirring up controversy and taking divisive stands on big picture issues. In 1967, Ali was banned from professional boxing after he refused to serve in the American armed forces in Vietnam. Ali argued to reporters in a press conference that year,
My conscience won't let me go shoot my brother, or some darker people, or some poor hungry people in the mud for big powerful America. And shoot them for what? They never called me n----r. They never lynched me. They didn't put no dogs on me. ... Why do I gotta go shoot them? For what? They're poor little black people, little babies and women and children. How can I shoot them poor people? Just take me to jail.
Ali also served as something of a public figurehead who often spoke out against racism in modern culture. During an interview in 1971, Ali addressed the backlash against black pride, noting that while there were obviously "good" white people, pointing them out simply wasn't enough to combat discrimination. He added,
There are many white people who mean right and in their hearts wanna do right. If 10,000 snakes were coming down that aisle now, and I had a door that I could shut, and in that 10,000, 1,000 meant right, 1,000 rattlesnakes didn't want to bite me, I knew they were good... Should I let all these rattlesnakes come down, hoping that that thousand get together and form a shield? Or should I just close the door and stay safe?
Ali's boxing license was reinstated in 1970, after the U.S. Supreme Court overturned his draft evasion conviction. In the years that followed, the boxer returned to his life in the ring. After years of ups, downs, and an eventual second Heavyweight championship win, however, Ali was diagnosed with Parkinson's Disease — a progressive disorder that generally results from repeated blows to the head and causes limited movement and nervous system failure, according to the Mayo Clinic.
While initial outlooks seemed more promising, by the early 2000s it became clear Ali's health was declining. His deterioration began significantly picking up over the past decade, and in 2014, his brother Rahman told The Sunday Express that he was barely able to speak, let alone attend the premiere of I Am Ali, a documentary about his life.
In recent months, though his health was shaky, Ali still managed to make headlines, even going so far as to call out presumptive GOP presidential nominee Donald Trump, who had recently promised to ban all Muslims from entering the United States. "We as Muslims have to stand up to those who use Islam to advance their own personal agenda," he said, in a statement to NBC News. "Speaking as someone who has never been accused of political correctness, I believe that our political leaders should use their position to bring understanding about the religion of Islam and clarify that these misguided murderers have perverted people's views on what Islam really is."
With his death, Muhammad Ali casts a long shadow on the world of sports as a whole. Cocky and at times overly-confident, Ali was renowned for his stubborn willingness to push forward and give everything he had to his career and beyond.
Ali leaves behind seven daughters (including undefeated middle weight boxing champion Laila Ali) and two sons.