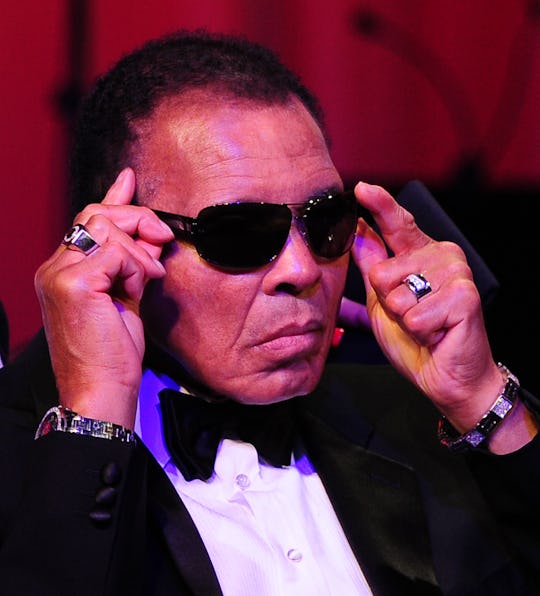 ROBYN BECK/AFP/Getty Images
Muhammad Ali's Last Appearance Videos Will Leave You Speechless
Although he's been officially out of the ring for some time, videos of Muhammad Ali's last appearances in public before his death on Friday are just as captivating as his fights. The heavy weight champion has remained fairly private about his personal life and the Parkinson's disease he's dealt with for the past 32 years, but he has made some noteworthy appearances in public now and again. Ali died at 74 due to respiratory complications due to his decades long fight with Parkinson's, but he wasn't one to take a corner lightly. Most recently, he even had energy to say his piece about presumptive Republican nominee Donald Trump after the shootings in San Bernardino, California last year. According to NBC News, in December he made a statement regarding Trump's policy towards Muslims in the classiest of ways.
He said in a statement, "we as Muslims have to stand up to those who use Islam to advance their own personal agenda." He reminded fellow Muslims and, really everyone, that Trump "is calling for a total and complete shutdown of Muslims entering the United States until our country's representatives can figure out what is going on." It's a little bit ironic that the boxing champ's last, very public, words were warning against a Trump candidacy. Even more so because The Donald himself has taken to Twitter to mourn him. Trump tweeted late Friday night, "Muhammad Ali is dead at 74! A truly great champion and a wonderful guy. He will be missed by all!
Let's not let Donald Trump's tweet memorial be the last word for Muhammad Ali, who was a practicing member of the Nation of Islam before converting to Sufism and later Sunni Islam later in life. His religion was important to him, as was his career, but more than anything else, Ali has embodied the struggle for civil rights and equality for everyone. And think about this: there are tons of Americans who aren't even old enough to have seen him fight or understand the power of his very public statements about racism in America during his lifetime.
Although he's appeared with his family recently in public for some press events, the recent biopic of his career starring Will Smith might be some of the last times fans will have to remember him by.
Even if he wasn't there in person, Ali made his presence known. Mike Tyson and him went back and forth on late night television about their skills.
There are also recent, and very rare, appearances Ali made with his family.
There are more than enough videos of Ali doing what he did best all over the Internet, but his most recent appearances in person were all about celebrating his legacy and his family. His most telling appearance though? That was all about asking Americans to think about their privilege when it comes to the election this coming November.