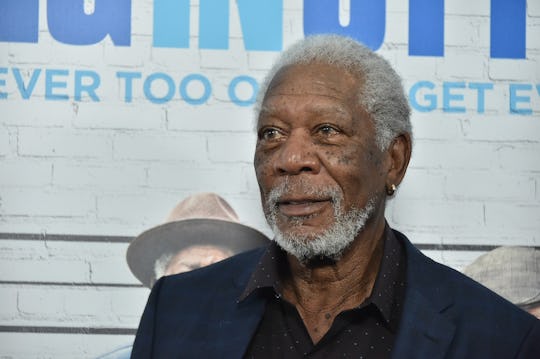 Mike Coppola/Getty Images Entertainment/Getty Images
Multiple Women Accuse Morgan Freeman Of Inappropriate Behavior & Harassment — REPORT
On Thursday, a troubling report surfaced against actor Morgan Freeman. Multiple women have accused Morgan Freeman of inappropriate behavior and harassment, according to CNN's exclusive report. A total of eight women have come forward with allegations, while eight others claim to have witnessed the inappropriate conduct.
Freeman tells Romper in a statement via his representative: "Anyone who knows me or has worked with me knows I am not someone who would intentionally offend or knowingly make anyone feel uneasy. I apologize to anyone who felt uncomfortable or disrespected — that was never my intent."
Per CNN's report, the allegations against Freeman spans years. One production assistant who spoke to the outlet first met Freeman in 2015, on the set of Going In Style. Unfortunately, the production assistant recalled a series of disturbing incidents that allegedly occurred during filming with Freeman.
In one particular occurrence, Freeman allegedly harassed the production assistant about her underwear. "[He] kept trying to lift up my skirt and asking if I was wearing underwear," the anonymous source said, according to HuffPost. Alan Arkin, one of the other actors on set, supposedly told Freeman to stop this alleged behavior. "Alan [Arkin] made a comment telling him to stop. Morgan got freaked out and didn't know what to say," the source added, according to The Hollywood Reporter. Arkin did not immediately respond to Romper's request for comment.
Other alleged incidents included unwanted rubbing, touching, and inappropriate comments about the production assistant's body. Things eventually became so uncomfortable for the source that she quit the film "several months" into production, according to CNN.
Another source interviewed by CNN echoed the production assistant's claims. A staff member on the 2013 movie Now You See Me alleged, according to Variety:
He did comment on our bodies... We knew that if he was coming by ... not to wear any top that would show our breasts, not to wear anything that would show our bottoms, meaning not wearing clothes that [were] fitted.
Making matters even more troubling about these claims is that Freeman allegedly extended this type harassment to members of the press. CNN entertainment reporter Chloe Melas claimed that during a press junket for Going In Style, Freeman allegedly issued a series of inappropriate comments about her body — when she was six months pregnant. "I wish I was there," Freeman allegedly told Melas, according to Vulture. "You are ripe," he allegedly added.
Melas did report her concerns about Freeman to CNN's HR department following the alleged incidents. Unfortunately, Warner Bros. — the company behind Going In Style — told CNN's HR department that they could not corroborate Melas' story despite the fact that one of Freeman's alleged comments was supposedly caught on film, according to Indie Wire. Warner Bros. did not immediately respond to Romper's request for comment. In the end, Melas decided not to cover the movie.
As for the people who witnessed Freeman's alleged misconduct, there are lot of anecdotes to cover. Most of the witnesses worked at Revelations Entertainment, a production company co-founded by Freeman and producer Lori McCreary. "One time I witnessed Morgan walk up to an intern and start massaging her," an employee said about Freeman's alleged misconduct in the office, according to The Wrap. "The intern got visibly red and wiggled out of his grasp, it was awkward."
Another unsettling occurrence allegedly went down at Freeman's 79th birthday bash. The party, which was held at Revelations Entertainment's office, included about 30 people. In an effort to introduce new staffers to Freeman, the group was instructed to stand in a circle as he greeted them one by one. One former staffer at the event claimed that Freeman allegedly used this opportunity as means to make women feel uncomfortable. The ex-staffer alleged, according to The Cut:
[He would] stand maybe within an inch of their face and just look them up and down and not say anything, and then would move on to the next woman and he'd stand like within an inch of their face and look them up and down and not say anything, and it was really, really strange.It was really weird and he did it to every woman but of course he didn't do it to any of the men. He didn't speak to any of the men.
CNN's report notes that McCreary was present at this event and was at other events where Freeman allegedly acted inappropriately. McCreary did not immediately respond to Romper's request for comment.
On the topic of McCreary, Freeman also made questionable comments about her at a panel in 2016 conference. "She had on a dress cut to here," Freeman said in front of about 400 people, according to CNN. "She wants to be thought of as serious. But you can't get away from the short dresses." Supposedly, McCreary was visibly upset by Freeman's remarks.
Clearly, there is a lot to dissect in CNN's report. And there's a good chance the public will learn more about the disturbing allegations against Freeman throughout the coming days.