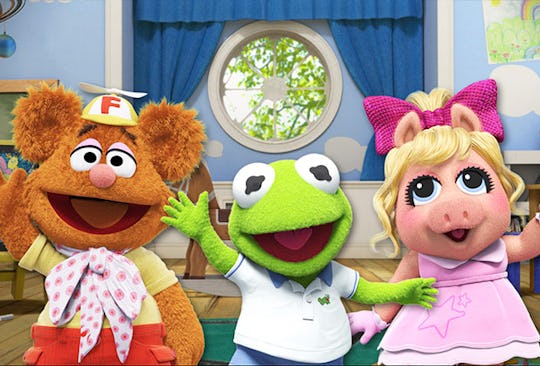 Disney Junior
'Muppet Babies' Is Returning To TV, & Parents & Children Are Going To Love This Revival
by Jessica Ariel Wendroff
Cowabunga! I never thought I'd see the day where Muppet Babies could get any cuter, but that day has come. Muppet Babies is returning to TV, and parents and children are going to love this revival! I mean, how could you not? Reimagined toddler versions of Kermit the Frog, Miss Piggy, Fozzie Bear, Gonzo, and Animal will be regulars throughout the series, which will premiere on Disney Junior in 2018. The show is CG-animated and will also feature Miss Nanny.
Nancy Kanter, executive vice president and general manager of Disney Junior Worldwide, is definitely thrilled to introduce the world to Muppet Babies:
"We are proud, and a little bit giddy, to begin production on our new version of the much-loved 'Muppet Babies.' Parents will delight in seeing their favorite Muppets in the mixed animation style they remember from the original series, and kids will be introduced to this warm and zany world made just right for the Disney Junior audience."
"Warm and zany" is a very accurate description for the youngster-targeted show. And according to Variety, the revival "will, like the original, be geared toward children ages 4-7 and feature two 11-minute adventures per episode."
Disney Junior, Disney Consumer Products and Interactive Media's Content & Media group, and The Muppets Studio will all play a hand in making Muppet Babies.
Debbie McClellan, Vice President of The Muppets Studio, is also delighted about the show's intentions:
"Bringing 'Muppet Babies' to Disney Junior is a wonderful opportunity to reach a new generation of viewers and to creatively build on the innovative original series. We hope to engage and delight the nostalgic fans while also entertaining new kids, parents and diverse audiences through heart and humor as only the Muppets can deliver."
This reboot makes me want to have a baby just so I have an excuse to indulge in this nostalgic fix.
Jim Henson's Muppet Babies was featured on CBS from 1984 to 1991. The episodes displayed the little ones going on adventures similar to those seen on Rugrats. During the revival show, we will once again see those same kind of imaginative minds at work.