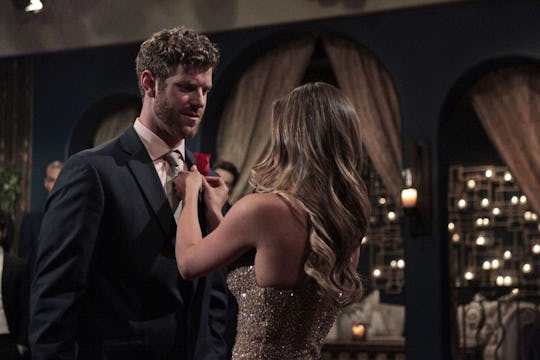 Rick Rowell/ABC
Music From James Taylor Of 'The Bachelorette' Proves The Musician Has An Open Heart
Folks, it's started again, the magical televised mating ritual/psychological experiment that is The Bachelorette, and we've already got a few front-runners. The first is Jordan Rodgers, former professional football player and brother to current professional football player Aaron Rodgers. The second, somewhat surprisingly, is singer/songwriter/proud Texan, James Taylor. No, not that James Taylor (I wish), but James McCoy Taylor, who changed his stage name to McCoy because Taylor was already taken. But, if you find yourself wanting to compare the two James, you can listen to The Bachelorette contestant, James Taylor's music easily.
James Taylor came swinging straight out the gate as he hopped out of the limo with guitar in hand and an original song at the ready, which he performed live for JoJo. And he doesn't sound half bad, kinda like a Tim McGraw/Savage Garden love child. Definitely leaning on the Tim McGraw side, though. Is the rest of his music this endearing?
So let's investigate what the rest of this guy's music sounds like, since that's what seems to have given him an edge.
In the Instagram caption, James said he sang this song to JoJo, and it is on behalf of all girls who think they've found "Prince Charming," only to find out that the dude is actually a frog, as so many of them are. But what if I want a frog, James??
A lot James' music has a similar sort of theme. The lyrics are romantic – very romantic – about eternal love and butterflies and all that other mushy stuff. He's like The Bachelor's version of Taylor Swift. I can dig it.
James combines boy-band flare with a dash of country twang and some emotional lyrics to create the perfect storm of aww-worthy soft rock. The kind of music you'll listen to in your car and sing along and maybe shed a tear or two, and then later deny the whole thing ever happened.
I particularly enjoy this fun little ditty, which is a little more upbeat and features some spoken bits. James Taylor considers himself a true romantic according to his ABC bio, and has a tattoo of an American flag and eagle on his left arm. This, I must see.
So will James's musical charm and obvious patriotism win JoJo's heart in the end? It's too early to tell, but he's definitely got a fighting chance. If he can overtake that football player, that is.