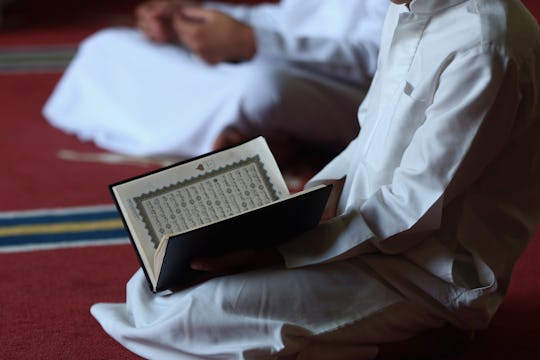 Francois Nel/Getty Images News/Getty Images
Muslim Children Are Bullied More Often At School
Islamophobia and violence against members of the Muslim community have become a political focal point in the U.S. over the last decade, but particularly so in the months following the 2016 election. Muslim Americans have found themselves subjects of not just intolerance, but proposed and enacted bans. New data shows that not just adults, but children, are feeling the impact. A new survey revealed that Muslim children are bullied more often at school — and not just by their peers, but teachers as well.
While racism has been part of the fabric of the U.S. virtually since its inception, Islamophobia specifically increased in the years following 9/11, according to data collected by the Federal Bureau of Investigation. In 2000, there were 28 documented hate crimes against Muslims. A year later, in the wake of 9/11, there were 481, according to Public Radio International.
48 percent of Muslim Americans reported they had experienced religious discrimination in 2010, according to Gallup data — making them twice as likely to report having experienced religious discrimination than any other religious group in the U.S. On the other side, of the Americans who polled that they have no "personal prejudice" against Muslims, one-third reported an "unfavorable" opinion of Islam, according to Gallup.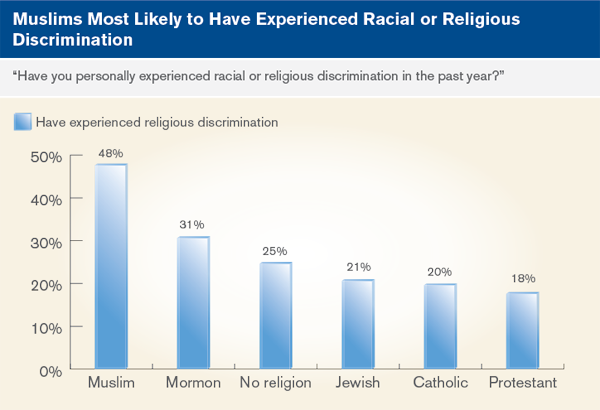 The experiences of Muslim Americans and attitudes of non-Muslims in America toward Islam seem to be further demonstrated by a recent survey conducted by the Institute for Social Policy and Understanding. Among the key findings from their 2017 American Muslim Poll, the institute found that 42 percent of Muslim parents reported their child experienced bullying at school because of their religion: again, twice that of their peers of other religions, according to Vox.
But that wasn't all parents had to say: of those who reported their child had been bullied in the last year, 1 in 4 said they had been bullied by a teacher or another adult at school. Given what we know about the percentage of American adults who self-reported bigotry against Islam in Gallup polls, this isn't altogether surprising — but it is something that must be addressed.
Even if your child has not been the victim of a school bully, having a discussion about witnessing a bully in action can be a valuable way to teach them about the "bystander effect." As one of the most often cited phenomenons in psychology, the bystander effect refers to a situation where many people are present to witness an emergency, or an act of violence, or some other kind of crisis, and everyone assumes that someone else present will be the one to take action. Since everyone assumes someone else is handling it, no one does anything, as explained by New York Magazine.
In 2015, researchers at the Max Planck Institute for Evolutionary Anthropology witnessed the bystander effect in children as young as 5. The researchers explained that children were less likely to help in the test situation (where a cup of water was spilled and someone was asking for paper towels) if there were other people present. When researchers talked to the kids after to find out why they didn't help, their reluctance didn't come from shyness, or from not knowing what to do, but because they had assumed someone else would be the helper.
When it comes to witnessing bullying, kids might be reluctant to intervene for a lot of reasons other than the bystander effect: they might fear social ramifications (like getting bullied themselves), or in cases where the bullying is being done by an adult, they may worry about punishment, as pointed out by Slate. Teaching children to not just identify bullying — whether it be verbal or physical — but providing them with a sense of social responsibility to call it out, or otherwise put a stop to it, is a lesson that cannot be learned too early in life.
With the advent of social media, the ways in which a child can be bullied have increased, but so too have the opportunities for their peers to come to their aid. Having regular conversations about bullying with your kids doesn't just help them feel more comfortable sharing if they're being bullied, but will hopefully encourage them to speak up if they're witnessing bullying at school. Explaining that bullying by peers should be reported to their teacher or another adult is fairly straight-forward, but in cases where the teacher or adult in the classroom is the one doing the bullying, it's important that your child feels they can come to you.
Explaining to kids that it's not "tattling" to report bullying is important, too. Help them understand that bullying is serious, and can have lasting harm, which is why speaking up right away is so necessary. Some kids may be more comfortable confronting a bully directly, and teaching them mediation skills will be helpful in making sure those confrontations go smoothly and don't result in more harm.
But even if a kid doesn't feel like they can stand up to the schoolyard bully — or their teacher — parents can make sure that the child is aware of what bullying looks like, and knows who they can trust to confide in about it. Teaching the next generation a sense of social responsibility and giving them the tools they need to not fall victim to the bystander effect may well be just the change we need to help eliminate prejudice not just in our schools, but in our world.