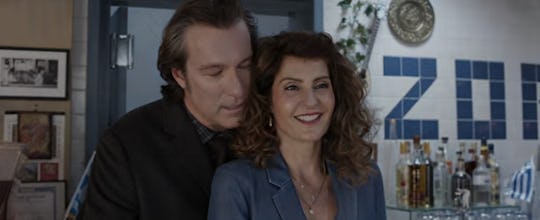 'My Big Fat Greek Wedding 2' Trailer Looks Just Like 'My Big Fat Greek Wedding,' But That's More Than OK — VIDEO
Happy Wednesday! Ready to feel old? Not only has it been 13 years since the sleeper hit My Big Fat Greek Wedding hit theaters in 2002, but Toula Portokalos and Ian Miller now have a full-grown daughter. That's right — as we find out in the trailer for My Big Fat Greek Wedding 2, Nia Vardolos' and John Corbett's beloved characters have not only stayed together after their insane wedding over a decade ago, but they've also added to the big fat greek brood.
And, as it turns out, she is the focus of the sequel. Named Paris (how not Greek) and played by Elena Kampouris (who is Greek!), Toula and Ian's daughter is desperately trying to chase away her Greek family while navigating teenage life, while Toula tries to do the same while navigating her sex life. Beyond a new cast member, it doesn't seem like My Big Fat Greek Wedding 2, which hits theaters March 25, will stray from its original premise — but when we loved the original premise so much, that can hardly be a bad thing, right? Plus, it can only improve upon the ill-fated My Big Fat Greek Life.
As the film's tagline says: "People change. Greeks don't." And neither, apparently, does Corbett's majestic hairline. Is this what eating Applebee's will do for you? In that case, mozzarella sticks please.
Image: Universal