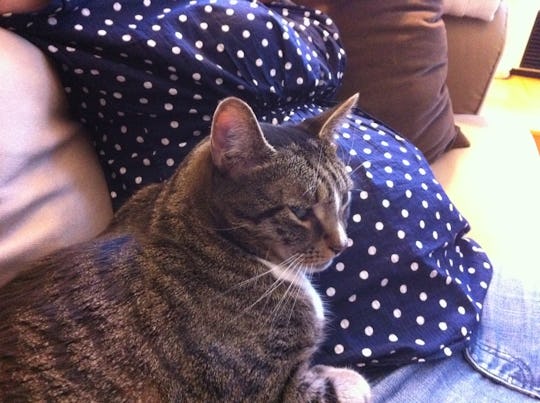 Photo courtesy of Janine Annett
Adopting Two Handsome Cats Prepared Me To Become A Mom
On a winter morning late last year, I woke up and wandered sleepily into my kitchen. My son and husband were already awake. My husband called to me from our basement (the favorite hangout area for our elderly cat, Charley), and I mentally prepared myself for a massive cleanup. The cat was old and his stomach got upset easily.
"Do we have a cat situation?" I asked.
"Yes," my husband yelled up the stairs.
When I got downstairs, he said, "He's gone. I'm sorry."
Charley was curled up in his favorite spot. He looked like he was asleep. I touched him, and he was cold.
Many times we thought Charley had been near death's door, but then he would rally. His veterinarian actually said he was in "remarkable health for a cat of his age." Every time I bought a huge bag of cat food or cat litter, I joked that surely he'd die that day. But Charley really did seem to have those nine lives that cats get.
The cat had endured many changes in his life, including the birth of my son and the death of his cat-brother, Thurston, at age 13. Recently, we'd added a puppy to the household — to my delight, it didn't take the cat long to warm up to him — so it felt like our little family was complete. Sometimes I'd have a cat on my lap, a kid by my side, and a dog at my feet. I couldn't imagine life without my son and my beloved pets.
The end of my cat's life was the end of an era — one that began at a time when I was not so sure I'd ever have pets of my own, let alone a child.
I was in my early 20s when I adopted two cats with my then-boyfriend, Sam (not his real name). Sam was ready to settle down and start raising — well, first, cats. Sam was older than I was, and professed he was ready for marriage and family, but his actions often said otherwise. He made many spur-of-the-moment decisions that seemed like good ideas at the time, but were often disastrous in the long run.
Sam proposed after we'd been dating for a couple of years. He spun a great story of our future: pets, marriage, children. But I told Sam that I wasn't sure he and I could have a kid together. If we did, I'd be responsible for two "children" — him and the actual child. So the day he proposed to me, Sam first told me he had made arrangements for us to adopt two kittens: a starter "family" to help sweeten the deal.
For a little over a year, I wore the engagement ring (it was vintage, with a thin band that broke easily), while our differences continued to mount. Planning the wedding did not go well, and we both realized our relationship just wasn't going to work out. We ended up calling off the wedding. But I did love the cats – I doted on them, and took care of them like they were my children.
Within just a few months of living in my new apartment with my cats, I unexpectedly met a guy at a bar — a guy who liked cats.
So when we split up, we had to figure out what to do with the cats. We'd gotten two to make sure neither would be lonely, yet here we humans were about to go our separate ways. It didn't seem fair to the cats to split them up, too. We decided I'd take the cats, even though it meant Sam probably wouldn't see them again, because I was also moving to a different city post-breakup.
The cats and I found our own place to live. I was single, with two cats (and I referred to myself as their "mom"), so I was officially a walking cat-lady stereotype. My cats kept me from being lonely. But within just a few months of living in my new apartment with my cats, I unexpectedly met a guy at a bar — a guy who liked cats, who happened to be the exact same age as me.
I married that guy from the bar and, a few years later, he and I had a son.
A lot of my friends adopted pets during early adulthood (mostly cats, although I had one friend who dated a terrible guy with a great dog; she delayed breaking up with him for months because she loved the dog). In my circle of friends, I've seen marriages, births, adoptions, and celebrations — but also divorces, illnesses, miscarriages, and loss. Some of my friends went on to have human children, while others didn't. A lot of my friends' first adulthood pets have passed away over the last few years, so for many of us the first of our "children" are now gone.
With Charley's death came the severing of my last tie to my ex, and the last remnant of the phase of my life where I was young, single, and childless. If my ex's plan was to get me comfortable with the idea of commitment through cats, it worked — just not with him in the picture. Or maybe it was just another one of his impulsive acts, and he really didn't think through the long-term commitment that would be required. But I did take care of my cats from when they were tiny kittens through the very end of their lives. When my cat Thurston became suddenly, acutely ill at the age of 13, I took him to the emergency vet in the middle of the night and held him in my arms as he died. If that's not commitment, I don't know what is.
In retrospect, it's clear I was always doing a lot of mothering, of other humans as well as animals. Perhaps Sam saw that in me, even when I didn't necessarily see it in myself. In my case, having pets really did help prepare me for (human) motherhood, and I'll continue to be a proud mom to both my son and my dog — and who knows, maybe I'll eventually adopt another cat. So it turned out I was willing to make the commitment of not just pets but marriage and kids — just with the right person, at the right time.