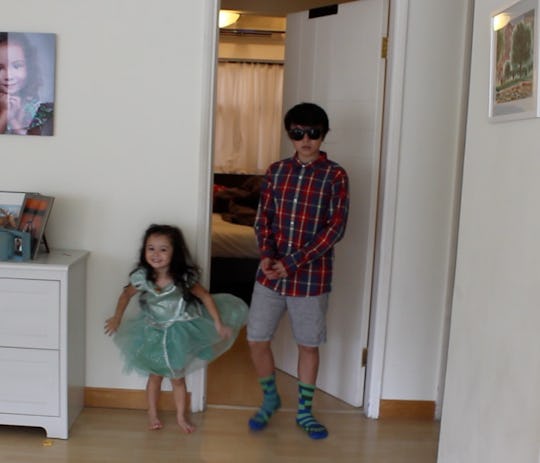 Courtesy of Andrea Wada Davies
My Fashion-Obsessed 3-Year-Old Dressed Her Brother For A Week & Here's What Happened
My 3-year-old daughter has a passion for fashion. She loves to see it, talk about it, and experiment with it. And she has since she was old enough to say "Beyoncé." The other day, when I asked her what she wanted to be when she grew up, she answered with confidence, "a fashion stylist, and a doctor." And while she can't really practice setting a broken leg or writing prescriptions just yet, she can and does practice styling people. In particular, her family. With mom and dad out of the way, my fashion-obsessed toddler styled her big brother.
In the past month, I had Stella dress both my husband and me to let her express her passion and to see what kind of outfits she would put together for us. She became our little Rachel Zoe. Not only were these experiments entertaining, they also gave me insight into my daughter's personality and her perception of us. Most of all, however, these styling weeks have taught and reminded me of some pretty valuable life lessons.
This time around, she cornered her 14-year-old brother, Evan, who thankfully obliged.
The Experiment
Following up on the last two experiments where Stella dressed her dad and me, Evan, being the exemplary big brother that he is, gave Stella the green light to become his personal stylist for one whole week. Stella had to dress Evan for seven days, choosing clothing, accessories, and shoes — his whole outfit from his closet. Even though Evan didn't ultimately wear some of these outfits the entire day because he's required to wear a uniform to school, he did wear some of these outfits out with friends after school as a sweet gesture of brotherly support for his sister's love of fashion. For one week, he gave his little sister free reign over any wearable thing in his entire room and he vowed to wear it.
Here's what happened.
Monday: Starting Off Basic
On Monday, Stella went for the minimalist look for her brother. She chose the outfit in such a hasty fashion that my immediate thought was, "Is she over this already?" I mean, between dressing me and then her dad last week, she's been asked to do more styling than a 3 year old might desire. So if she was like, meh, let's just get this over with, I would understand. But as it turns out, Stella was only doing exactly what I'd observed her do the prior two experiments that first day: she was in the moment, making her fashion decisions based on how she felt that particular day. And that day, she was feeling like, hey, let's keep things comfy, simple, and easy.
Stella chose for Evan a blue v-neck tee, his school uniform trousers, and some skateboarding shoes. It was all good except for the fact that a recent growth spurt had left Evan's trousers at a length that would warrant a hi-five from Steve Urkel. I felt a bit mortified that I hadn't noticed this sooner and remedied the high-waters situation sooner, but Evan was cool with the outfit. Especially because he'd been initially worried about how this would all go down after seeing Stella dress her dad. But after day one, I think Evan was feeling like, if this is how it's going to be, this should be a piece of cake.
Tuesday: Bring On All The Sports
On Tuesday, Stella channeled sports in a major way. The first thing she pulled from Evan's closet that morning was a baseball cap. And that set her off in the direction of choosing a full on athletic look for her brother. There was nothing arbitrary about her choice. Once she had that hat in her hands, she was very specific about building the outfit around it and asked to see Evan's P.E. clothes.
She chose a green shirt and a green pair of shorts, threw it all on top of a still-sleepy Evan, and headed out of his room looking proud of her selection. And just as any good stylist would, she explained why she chose what she did by saying, "I want him to wear P.E. clothes because I feel like he wants exercise today." Shortly after, Evan emerged from his room looking like he was going to exercise that day, whether he wanted to or not.
Wednesday: That Outfit Is Bananas
For the first two days of this exercise, I thought that perhaps Stella was taking on the same, more serious approach to dressing Evan as she did when she dressed me. But, on the third day, she made it clear that fashion should never be predictable. Wednesday is where all seriousness broke down with the "guy in a banana suit" situation.
Maybe she had every intention of going into her brother's closet that morning and dressing him for success, but when she caught a glimpse of a glaring yellow little number balled up in the corner of his closet, curiosity took over and the decision was done. She wasn't entirely sure what that big yellow thing was, but she knew it wasn't a sweater set, and she knew that the result of choosing it was going to bring her top-notch entertainment. Unsurprisingly, she was right. That look was solid gold.
The big yellow thing turned out to be a banana costume that Evan had bought for Halloween a year ago but had only worn for a photo, so she had mostly forgotten about its existence. When she saw it, she magically wanted to transform her brother into a fabulous human fruit on Wednesday. She loved "banana man" so much that she saw to it that the costume was put in a special, easily accessible place for enjoyment in the very near future. She loved having this authority over her older brother. Whatever she chose for him, he would have to wear, more or less. And Evan, by some grace, was still down to let it happen.
Thursday: Patterned Prep
On Thursday, Stella decided to get back to a more serious approach to dressing her brother. She went for preppy chic with a semi-buttoned up long sleeve paired with dueling pattern flair on his socks. She marched right into her brother's room and stated that she was looking for a "nice, button shirt," and after seeing her choices, she picked a red-and-blue patterned number and paired it with some relaxed cotton shorts. And to give the outfit some oomph, she threw in a pair of shades.
She loved seeing her t-shirt loving brother in a long-sleeved button down shirt. "That's a really cool look," she said a few times, almost as if to encourage Evan into wear button down shirts more regularly. Or maybe it was just because she was clearly pleased with her work that day.
Friday: DIY Vibes
On Friday, Stella wanted something different. She stood atop her brother's bed peering into his closet in silence for a good minute before saying, "How about that gray sweatshirt?" Evan groaned, and Stella flashed him a look that said, that was not a rhetorical question. Evan's grumbling was because Stella had chosen the flannel sweatshirt he made in his Design and Textile class at school. A sweatshirt that he himself admitted was not his best showing. In addition, he really wasn't too keen on wearing a flannel pullover when both the temperature and humidity had been hitting the 90s that week in Hong Kong.
Evan's swim trunks definitely didn't fit anymore, but Stella wouldn't budge on her decision, however, so Evan had to wear them as hip huggers. As if the pairing wasn't statement making enough, Stella threw in a tie, urging him to "sometimes wear it like a scarf, and sometimes like a tie."
As if to demonstrate to Evan that you don't have to completely suffer for fashion, she paired his school project with a sweet pair of swim trunks so even if he was sweating up top, he was easy breezy down low. Evan laughed. Stella had chosen the pair of swim trunks that he'd impulsively bought for $2 US dollars from a vendor at the beach when he and his friends decided to jump in the water. He was surprised they'd even made it through that day. Needless to say, Friday's outfit wasn't his favorite. He was wearing all the clothes he'd rejected in his closet.
Saturday: Who Wouldn't Want To Rock This Look?
Saturday, Stella was happy to make another unexpected discovery inside her brother's closet. Attracted to bright colors peeking out from a stack of folded and otherwise dark-colored clothes, Stella found a kimono that her brother had gotten as a freebie at a recent rugby tournament. She quickly pulled it out of the closet and let out a excited, "Ohhh yeahhh."
Stella taught us once again that even when people question your decisions, it's always stylish to be yourself.
This pick was less in the name of her taste in fashion and was more an opportunity for laughing at her brother. She couldn't wait to see him in the "silky smooth kimono," and after telling him to "put that cute thing on," she added a ridiculous Mad Hatter hat that Evan had gotten at the same rugby event to the mix. Stella was clearly in a jokey, silly mood that day, and it showed in Evan's Friday #OOTD. Evan was sort of feeling it, though. It was like Evan was the Ring Master of a Japanese Alice in Wonderland-Themed Pool Party Circus. I mean, there are worse things.
Sunday: Sports Chic
Stella wrapped up her styling gig with a vintage vibe. She chose some throwback pieces: Evan's football jersey from four years ago and his swim trunks from two years ago — because I'm an emotional hoarder, obviously — to cap this fashion experiment off. Vintage is cool, sure, but in the case of growing kids, revisiting clothes from a few years back means they probably won't fit anymore. And in this case, Evan's swim trunks definitely didn't fit anymore, but Stella wouldn't budge on her decision, however, so Evan had to wear them as hip huggers. As if the pairing wasn't statement making enough, Stella threw in a tie, urging him to "sometimes wear it like a scarf, and sometimes like a tie." Clearly, this 3 year old likes to keep things fresh.
Seeing our daughter so naturally gravitate toward something and be so happy to style all of us for the past month has reminded me to do what I can to nurture my kids' passions.
Toddler Stylists FTW
What did this particular Stella as a stylist experiment show me that was different than the other two? Personally, it reminded me to be thankful for how well my kids, who are 10 years apart, really do get along. They have a tremendous amount of love for one another, which is most of the reason Evan even let this happen in the first place. Being that most 14-year-old boys would rather have their computer games and smartphones taken from them for a month or wear nasty unwashed gym clothes than let their toddler sister dress them for a week, I have to be appreciative of just how good of a sport and easy going my son is. He sees his sister's love for fashion and dressing other people and he considered it just a little skin off his back to wear a few silly outfits.
Just as in the other instances of Stella being in-house stylist for a week, I was inspired by the message to go forth, do what I love, and what I feel I'm good at or at least passionate about, with confidence. Who cares what everyone else is doing or, in this case, wearing? If you like it, rock it. If it helps you to express who you are, do it, be it, own it. Stella did not budge on her fashion decisions. She couldn't be talked out of the flannel sweatshirt and she couldn't be talked into choosing shorts that actually fit Evan instead. She was firm in her decisions, even when they were made quickly and seemed flippant. Perhaps her decisions weren't necessarily reflective of how her brother was feeling at the time, but with regards to her carrying out the task I'd given her for the week, the message here was stay true to who you are. Stella taught us once again that even when people question your decisions, it's always stylish to be yourself.
And yet again, I am reminded that we as adults should not take ourselves too seriously. Kids are so willing to have a go at new things. To be adventurous. To say "why not?" Stella illustrated that with her fashion choices. And Evan demonstrated this with his willingness to wear whatever concoction Stella threw his way. Why not dress her big brother in a banana costume? And equally, why not wear it?
Seeing our daughter so naturally gravitate toward something and be so happy to style all of us for the past month has reminded me to do what I can to nurture my kids' passions. When I see Stella open up her drawer or wardrobe, eyes glimmering with all the outfit possibilities laid out before her, I in turn get excited knowing that she has a talent/interest that brings her joy, that lets her express herself. Supporting these passions in our kids is like supporting their calling, even if later, their calling shifts. By doing so I hope to send the message to my children that they should pursue the things that feed their souls, that truly make them happy. Allowing Stella to continue to style herself, us, and anyone else who will let her is allowing her be herself and letting her do something that gives her a feeling of fulfillment, even at the age of 3. So I think we'll continue letting her do just that.