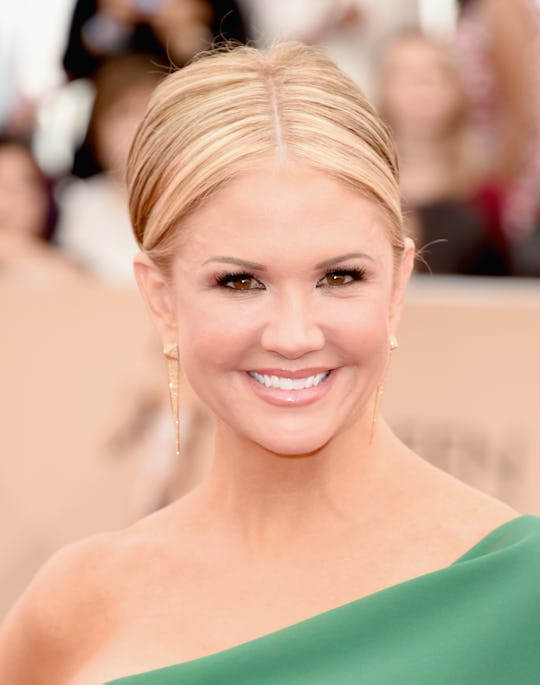 Jason Merritt/Getty Images Entertainment/Getty Images
Nancy O'Dell's Response To Trump's Comments Challenged Society To Be Better
A leaked 2005 recorded conversation revealed presidential candidate Donald Trump using lewd language to describe how he would use his celebrity status to force himself upon women and how he had admittedly tried make moves on a married woman. The woman the Republican candidate told Access Hollywood host Billy Bush he had tried to sleep with in the recording was identified on Saturday afternoon as entertainment journalist Nancy O'Dell, who responded to Trump's comments in a strongly worded statement. The Entertainment Tonight host challenged society to be better while highlighting the urgency for a very important conversation about the objectification women continue to face far too often.
O'Dell, who co-hosted NBC's entertainment news show Access Hollywood with Bush until 2009, issued a statement through her current show, Entertainment Tonight, to address the comments. She wrote:
Politics aside, I'm saddened that these comments still exist in our society at all. When I heard the comments yesterday, it was disappointing to hear such objectification of women. The conversation needs to change because no female, no person, should be the subject of such crass comments, whether or not cameras are rolling. Everyone deserves respect no matter the setting or gender. As a woman who has worked very hard to establish her career, and as a mom, I feel I must speak out with the hope that as a society we will always strive to be better.
The unearthed footage published by The Washington Post on Friday exposed a conversation between Trump and Bush talking about O'Dell as they arrived at a studio lot before the GOP nominee was interviewed about his cameo role on the set of Days of Our Lives.
"I've moved on her actually. You know, she was down in Palm Beach. I moved on her, and I failed. I'll admit it. I did try and f--- her. She was married," Trump can be heard saying in the recording from 2005.
Trump continued, "Nancy, no this was — and I moved on her very heavily. In fact, I took her out furniture shopping. She wanted to get some furniture. I said 'I'll show you where they have some nice furniture.' I took her out, furniture, I moved on her like a bitch."
"But I couldn't get there, and she was married. And all of a sudden I see her she's now got the big phony t--s and everything," Trump continued. "She's totally changed her look."
In response to the heated backlash, Trump released an apology statement that dismissed his remarks as "locker room banter" that took place many years ago and also noted the unprecedented level of criticism his comments have garnered was a "distraction" from larger issues that needed to be discussed.
Bush also released a statement to apologize for the leaked conversation. "Obviously I'm embarrassed and ashamed," Bush said in the statement. "It's no excuse, but this happened eleven years ago. I was younger, less mature, and acted foolishly in playing along. I'm very sorry."
The surfaced recording of the incredibly vulgar and inappropriate conversation is yet another addition to Trump's long history of alleged misogyny. A presidential candidate boasting about this type of behavior at the time and now dismissing it only as banter between two guys is a dangerous characteristic for a nation's potential leader.
O'Dell's strong statement highlighted all these issues and will hopefully inspire future discussions to make these types of comments a thing of a the past.