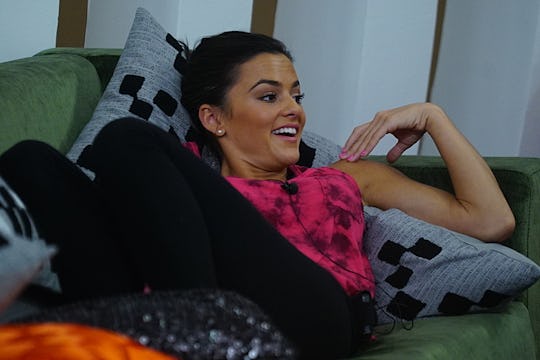 Monty Brinton/CBS
Natalie Calls Victor Out On 'Big Brother 18' For His Sexist Comments & The World Rejoices
My, oh my. How does it feel, Victor? Being called out by someone on national television? Not so great? On Thursday's live eviction episode of Big Brother, Natalie called Victor out for his sexist comments while in the house, and basically it was everything that needed to happen. If you don't remember, Victor made some pretty absurd comments during his short-lived Big Brother life. But, Natalie didn't take those comments lying down. Instead, she used her goodbye message to Victor as the perfect platform to suggest a better treatment of women, and was seriously awesome.
On a previous episode, Victor was seen criticizing her makeup, clothing, and even what she ate. A.k.a., it was not cool. Twitter took notice, too, that his comments weren't OK. Natalie increasingly became upset about Victor's attitude toward her, saying that the now evicted houseguest has an opinion on everything. Well, now was Natalie's time to give her opinion on Victor, and hopefully he takes some tips from it. While it was brief, the words that Natalie spoke were poignant and powerful, and certainly things that Victor will be reminded of as he exits the house (even if he potentially returns). As a reminder, here is that epic goodbye message.
Fans on Twitter applauded Natalie for her short, but oh so powerful goodbye, noting that she not only stood up for women, but also put Victor in his place.
It wasn't all about the shade throwing, though. Fans also noted that while Natalie had her moment to shame Victor for his comments, she also proved to be very kind, regardless of her clapback.
Basically, Natalie came out on top in this case, and it was amazing. You go, girl!