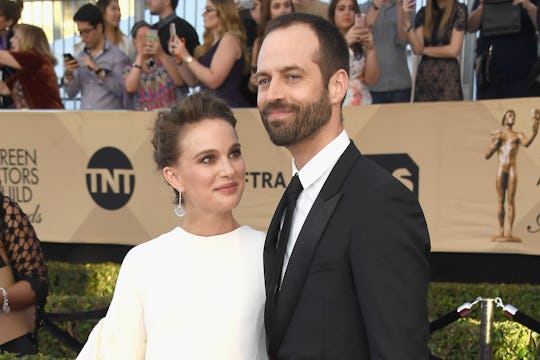 Frazer Harrison/Getty Images Entertainment/Getty Images
Natalie Portman Welcomes 2nd Child
They're now a family of four! On Feb. 22, Natalie Portman and Benjamin Millepied welcomed their second child, daughter Amalia, according to E! News. The couple managed to keep Portman's pregnancy — and later, Amalia's birth — under wraps for quite some time. But the news is out now, and Portman's rep told ABC News that both "mother and baby are happy and healthy."
The Black Swan actress and her husband of four years are already parents to one son, five-year-old Aleph. Portman, 35, showed off her second baby bump at the Venice Film Festival in September, sending rumors flying, but she didn't actually confirm her second pregnancy until late November.
"It was early," she told Jimmy Fallon on The Tonight Show when he asked about her silence. "I thought everyone would know because I wasn't drinking. ... It's weird because I'm a small person in general, so you show a lot faster and a lot more when you're small. Everyone thinks I'm about to pop and about to give birth any minute, and I have months to go."
Portman didn't give away her due date, however, and managed to keep Amalia's birth a secret for over a week (and for a celebrity, that's basically unheard of). Portman did skip the 2017 Independent Spirit Awards, however, as well as the 2017 Oscars, according to E! News. At the time, she told ABC News in a statement that she was unable to attend due to her pregnancy. (Sneaky, sneaky move, Portman!)
Portman remained mum about any possible baby names in the months leading up to Amalia's birth, as well, telling ET in January, "You got to meet a baby before. Gotta meet the baby and then figure it out." (It seems like Portman's meet-the-baby naming system works, too, because Amalia is a gorgeous name.)
Portman hasn't said anything publicly about Amalia's birth yet, but judging by her past words on parenthood, something tells me she and Millepied are happy campers. In 2016, Portman wrote a piece for The New York Times in which she talked about her home life, writing:
When I'm not working, I'm pretty much exclusively with my family, so my rituals have to do with school, meal preparation, playdates, bedtime. ... We spend the weekend together as a family — usually somewhere in nature, often with friends who have children. Lots of cooking.
She also wrote that becoming a mother made her much more aware of the passing of time — and just how quick it goes. "Time goes exponentially fast as a parent," she wrote. "I hate saying it, cause ugh, we hated it so much when people said it to us: Pay attention and hold them close because before you know it, they're moving out of the house. They always said it, and now we say it, and it's awful, and we're old. But it's also true."
Here's to hoping Portman is enjoying her time with Amalia as a newborn and holding her and Aleph close. Congratulations to the happy family!