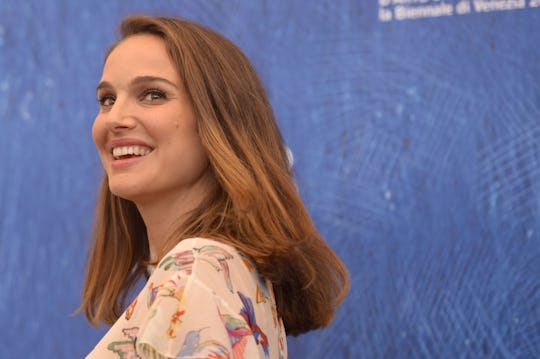 FILIPPO MONTEFORTE/AFP/Getty Images
Natalie Portman Is Reportedly Pregnant With Her Second Child, & Fans Are Excited
The star of Black Swan and of Planetarium may be expecting! Reportedly, Natalie Portman is pregnant with her second child, according to a source who spoke exclusively to Us Weekly. Portman's representative hasn't responded to Romper's request for comment.
At the Venice Film Festival Planetarium premiere, Portman walked the red carpet in a dress that appeared to reveal a baby bump, Us Weekly reported. One event attendee told the magazine that Portman even rubbed her belly while rocking her soft pink gown. Portman's husband is Black Swan choreographer Benjamin Millepied, according to E! News. Millepied and Portman had their first child together in 2011; POPSUGAR reported that Portman had just turned 30 the week before giving birth. Aleph Portman-Millepied is now five years old, but he mostly stays out of the spotlight.
Portman's career is thriving. In Planetarium, Portman joins actor Lily-Rose Depp to connect with ghosts in a supernatural drama, according to IMDB. Another film scheduled for a 2016 release, The Heyday of the Insensitive Bastards, is in post-production. Portman appears to have three projects set to premiere in 2017: The Death and Life of John F. Donovan, Annihilation, and Weightless. But from Portman's perspective, motherhood is her most difficult job. In 2013, E! News reported that Portman said being a mom is more challenging than starring in a multimillion dollar production:
I love being a mum, but it's much more intensive work than being an actress—going to work feels like you've got a day off. Not that I want a day off from being a mum, it's just perhaps I had this impression before that mums don't work. But they work more than anyone.
Portman's career requires her to lead a public life, but she's masterfully kept her family life mostly private. The actor isn't on Instagram or Twitter (though her husband has accounts on both). It may help that Portman and Millepied spent plenty of time outside of the United States following Aleph's birth: according to The New York Times, the family moved to Paris when Millepied joined the Paris Opera Ballet as director of dance in 2014. They spent two years in France and only recently returned to California; ET reported that Millepied and Portman now live in Los Angeles.
As fans wait to learn whether Portman is pregnant, the actor has another bit of big news to focus on in the immediate future: her new movie, Jackie, premiered Wednesday night at the Venice Film Festival, according to People. She's getting excellent reviews for her portrayal of First Lady Jacqueline Kennedy navigating the aftermath of her husband's assassination. IndieWire described Portman's performance in Jackie as "magnificently layered" and described her as an "emotional superconductor."
It seems as though this week, Portman has a lot of reasons to celebrate. Her fans do, too.