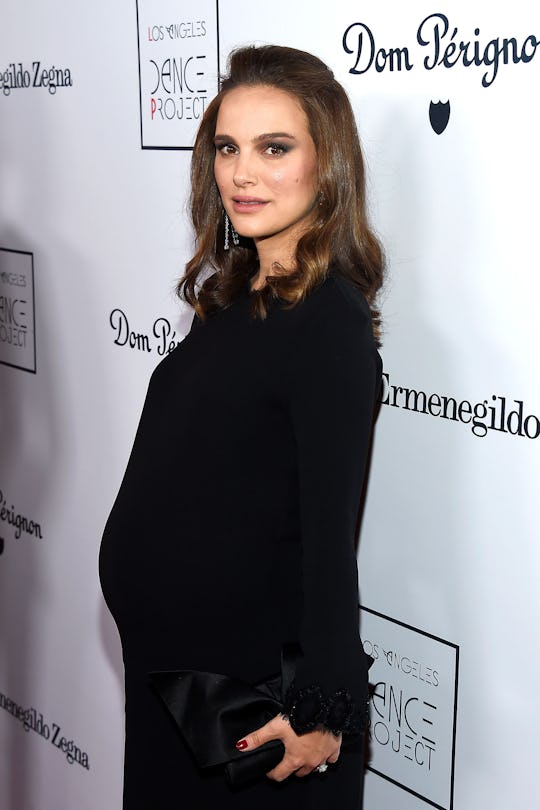 Matt Winkelmeyer/Getty Images Entertainment/Getty Images
Natalie Portman Quotes Show Motherhood Isn't Easy
Natalie Portman is now a mother for the second time. On Friday, the actress announced that she had welcomed her second child — and first daughter — Amalia, with husband Benjamin Millepied in February. Portman is definitely someone to look up to — she's Harvard educated and she's incredibly charitable. So, it is no wonder that the Natalie Portman quotes on motherhood show just how much of a role model she really is.
Portman's daughter is not the couple's first child — Portman and Millepied welcomed their son, Aleph, in 2012, according to E! News. While Natalie's pregnancy was heavily documented on the red carpet during the awards season, Portman and her husband live a very quiet and private life, behind cameras. This a life without public social media accounts and constant photos of their child. But while the couple may be private, Portman is not one to be shy about her home life in front of the cameras — talking candidly about her son and what it means to be a mother in different interviews. Portman's quotes on motherhood show that not every mother — even those with an Academy Award to their name — can be perfect and must put thought into their decisions as parents, serving as an inspiration to moms everywhere. Here are a few of those quotes.
On Her Life Rituals With Her Child
In a 2016 story for The New York Times Magazine, Portman revealed how she spends her free time, when she isn't working — by putting her child first and developing a set routine. Telling The New York Times Magazine:
When I'm not working, I'm pretty much exclusively with my family, so my rituals have to do with school, meal preparation, playdates, bedtime. Weekends are the best for ritual, because I own them completely. I do the whole week's laundry, which I love, because it's a task with a clear beginning and end. And we spend the week together as a family — usually somewhere in nature, often with friends who have children.
On Dealing With Stress As A Mother
Motherhood can sometimes be incredibly stressful — from dealing with dirty diapers, to a crying baby, to so many appointments. But, according to Portman, being a mother shows you how to handle stress. Telling The New York Times Magazine in the same interview, "[Being a mother] made me much calmer under stress, because there's that weird parent thing you develop, that when things get really bad, your voice gets calm and your blood pressure slows, and you can make everything okay again."
On How Parenting Has Changed Her Outlook
Motherhood can certainly change one person's outlook and views on life in a matter of moments — changing someone from being just a person to being a mom and therefore changing the way they look at others. Portman told The Telegraph in 2013, just how motherhood has changed her outlook on parenting, especially when it comes to the decisions of other moms:
I'm less judgmental than before I had a kid. The biggest thing I've learnt is that parenting is a totally different experience for every single person. Everything is cool, there are no rules — I mean, apart from not hurting your kid. Some people breastfeed until their babies are five, and some don't breastfeed at all. There are no rules about what it means to be a feminist, or a good mother. For some, its going to be right to go back to work, for others its going to be right to stop working completely.
On The Importance Of Self Care While Being A Mother
Some parents fail to recognize how to care for themselves in the midst of having a career, caring for their child, and trying to "have it all." In a 2016 interview with British Vogue, Portman had a valuable piece of advice for moms and the importance of self care:
Give yourself a break — literally and figuratively. We all hold ourselves to such a high standard and it's a constant balancing act. If you have one bad day, don't let it define you. There's always tomorrow. I also think it's important to carve out time for yourself. It's easy to forget that but it's so important.
On Her Decision To Have Kids
In a 2015, Portman told The New Zealand Herald that there is a "weird obsession about kids and actresses in our media that's over the top" — fair enough. But in the same interview, Portman did open up about her decision to be a mom and have a child, giving some beautiful reasoning as to why some have kids and others don't.
It's a personal choice. For me it was a wonderful, meaningful, life-changing experience that I couldn't live without. But someone else might not want that and still be completely fulfilled and whole without it.
Portman is a very private person — and her quotes on motherhood reflect that being a mother is something very personal to Portman. It's clear that she will take this mature, inspirational outlook, and provide it to parenting Amalia. Congratulations to Portman and Millepied on their new addition to their family.