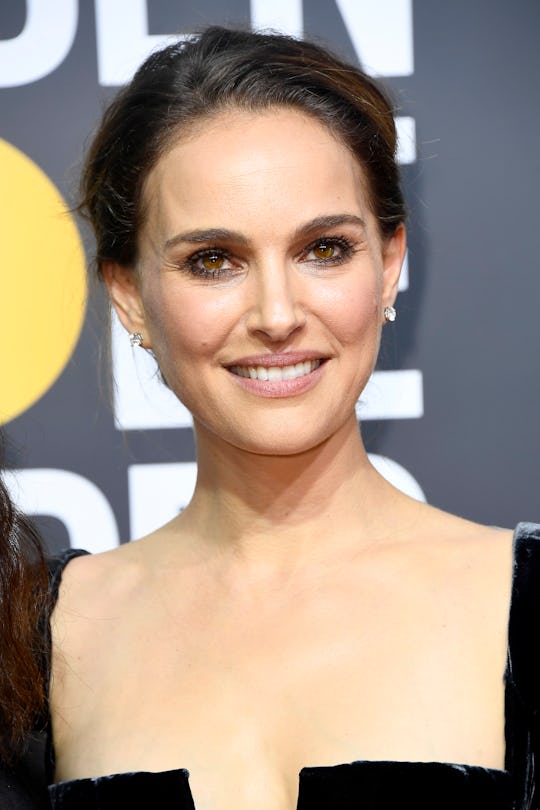 Frazer Harrison/Getty
Natalie Portman's "All Male Nominees" Comment At The Golden Globes Was *So* Necessary
You may have forgotten the fact that all the nominees for best movie director at the 2018 Golden Globes were men. But at least one woman did not. Natalie Portman's "all male nominees" comment at the Golden Globes is giving me life right now, which is perfect because I am also dead. If there was ever an awards at which to call that stuff out, this is definitely the one.
If you've been paying attention at all to the 2018 Golden Globes, you may have noticed a theme. That theme is women speaking up and letting all the powerful and predatory men in the world know that "Time's Up." That also means that the women have been empowered to call out the BS wherever they see it. Sometimes it's pointing out that E! News wasn't paying Catt Sadler as much as her male co-anchor. And other times it's Natalie Portman presenting the award for Best Director of a Motion Picture. Excuse me, sorry, what she actually said was "Here are the all male nominees for Best Director." Excuse me while I fan myself back to consciousness. I think I literally woo-hooed at my television. I am so here for women speaking up about everything finally.
The (all male) nominees in this category were Guillermo del Toro for The Shape of Water, Martin McDonough for Three Billboards Outside Ebbing, Missouri, Christopher Nolan for Dunkirk, Ridley Scott for All the Money in the World, and Steven Spielberg for The Post. They... well... they didn't look extraordinarily thrilled when Portman pointed out this fact. Del Toro in particular looked like he strongly wanted to roll his eyes. He won the award, so even if he was irritated, he can't be too upset. Twitter, at least, seemed to think that this moment was fantastic.
There were three women in particular whose incredible directing of their incredible movies probably should have been in the running. Those are, of course, Greta Gerwig for Lady Bird, Patty Jenkins for Wonder Woman, and Dee Rees for Mudbound. All three of these films were widely praised by audiences and critics alike. Though Gerwig was nominated for Best Original Screenplay at the awards, the honor in the end went to McDonough. Why were none of these women nominated in the first place? Jenkins' Wonder Woman was largely acclaimed for its feminist portrayal of the character, while Mudbound was an incredible story of rural American and deeply ingrained societal racism. These are the women and the stories we need today.
The lack of female diversity in the Best Director category was an especially bad look considering the extremely visible "Times Up" movement supported by, I think, literally everyone at the awards ceremony. Basically, there was no reason for it and I am so glad that Portman had the guts to just go out and say it. Something tells me it wasn't on the teleprompter.
Luckily, it wasn't all bad news at the awards. In the end, Gerwig's beloved Lady Bird won the award for Best Musical or Comedy (still not sure why musicals and comedies are in the same category). An emotional Gerwig accepted the award and tried to thank everyone she's ever met (including the city of Sacramento). It was a truly great moment, especially coming right after the Best Director snub. Hopefully some good will come out of all of this and this year the Oscars will be more inclusive and more diverse than ever before. After all, I think we've all agreed at this point that Time is Up.
Check out Romper's new video series, Romper's Doula Diaries:
Watch full episodes of Romper's Doula Diaries on Facebook Watch.