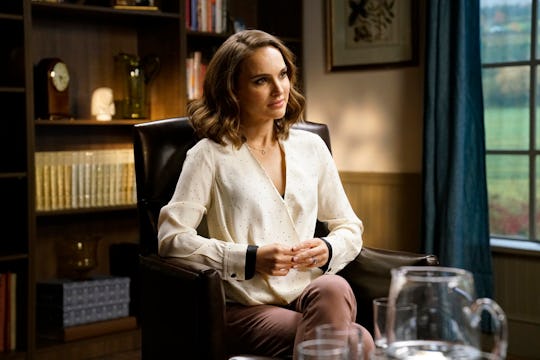 Rosalind O'Connor/NBC
Natalie Portman Brought Back Her Amazing Rap Skills On 'SNL' & You Need To Hear It — VIDEO
When it was announced that Natalie Portman would be hosting Saturday Night Live again for the first time since V for Vendetta came out, everybody wanted to know just one thing. Would she do another rap? Ten years ago her rapping skills blew everyone away and became a classic SNL sketch — especially since nobody expected it from tiny, poised Portman. But she did not disappoint on Saturday and Natalie Portman's rap skit on SNL will give you life (again).
When Portman first hosted the show back in 2006, she surprised everybody with her loud, angry rap. The sketch started as if it was just an interview with the accomplished actress. When asked what her daily life was like, Portman responded, "Do you really wanna know?" and then the most glorious rap sketch ever created burst forth. Suddenly Portman was not the sweetly lovable and quiet woman we'd come to expect her to be. She was an excellent rapper and a little scary. It was pretty glorious, to be honest. So as the host of Saturday Night Live once again, it was all but guaranteed she was going to bless the audience once again with her superior rapping skills. Seriously, give this woman a record deal.
In the 2018 version, Beck Bennett is interviewing Portman, and starts by saying that the last time she was there things got out of hand. But she says she was just going through a really rough time then. But when asked what her life is like now, she responded, "Okay, bish." And then the world rejoiced because it was clear that she was about to blow our minds again. To a medley of beats sampling from all of today's most popular rap and hip hop songs, Portman dropped I think my favorite single of the new year.
"I gotta say it seems like you're exactly the same but with current references," Bennet said after the first verse, in which Portman called out ayahuasca, eating Tide pods, click bait, and her man who dances but is not a "ballerino." But this, Portman said, was "untrue," because she's a mother now which has really changed her perspective. When asked whether she found it hard to juggle her career and motherhood, Portman said, "you can juggle these nuts." I'm sorry, I'm still giggling about this and I don't know why.
This segued into a section with Portman apparently about to give birth and looking fly as hell, "making mommy moves." She brags that when she gave birth she didn't even push, she was just bombed out smoking "bomb kush," which is giving me major motherhood goals right now. (I mean not literally, obviously.) Portman also took this time to defend the much-maligned Star Wars prequels in which she played Queen Amidala. "Say something about the motherf*cking prequels, bitch," she rapped, dressed as the famous character. "Say something nice about JarJar Binks." Hey, at least we know now how she feels about those movies. I mean, were they really that bad?
And to cap off the perfect segment, Andy Samberg actually made an appearance. Samberg, of course, was in Portman's first rap video, and was part of The Lonely Island, his spoof musical group that gave the world classics like, "I'm On a Boat." Portman finished the sketch with a final question from Bennett, which was whether she thought the Time's Up pins had really been as effective as she'd hoped, to which Portman responded by stabbing a Time's Up pin into his forehead and shoving him out the window. "No more questions." You guys, the Queen is back.
Check out Romper's new video series, Romper's Doula Diaries:
Watch full episodes of Romper's Doula Diaries on Facebook Watch.