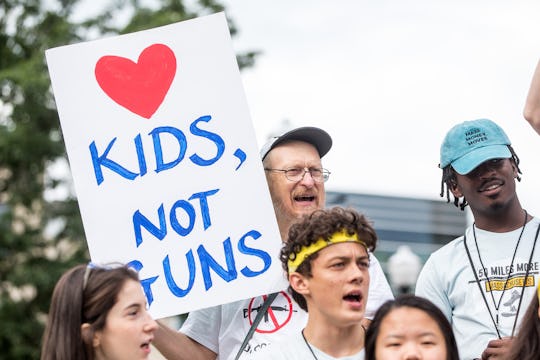 Scott Eisen/Getty Images News/Getty Images
Wear Orange & 3 Other Ways To Take Part In National Gun Violence Awareness Day
Americans are only half way through 2019 and there have already been 13 school shootings during this six-month period, according to Education Week. It's happening all across the nation, across all socioeconomic boundaries, and all racial divides. And while it's easy to feel hopeless in the face of such tragedy and senseless violence, there are things that can be done. Hopes and prayers are great, but action is better. And as National Gun Violence Awareness Day 2019 takes place on Friday, June 7, here are four powerful ways you can show your support.
While the statistics about gun deaths are devastating, there are some victories to be celebrated. For example, the U.S. House of Representatives passed Charleston Loophole legislation in February, closing a gap in the background check process increasing the review period from three to 10 days, according to CNN. And the decision reflects the majority of Americans want. In fact, according to The Action Network, a whopping 97 percent of Americans support stronger background checks to purchase guns.
In another win, New York Gov. Andrew Cuomo signed "Red Flag" legislation, which restricts a person's access to firearms when they pose a significant risk to themselves or others, according to CNN. So, far, 15 other states, including Washington, D.C., have signed similar bills into law, according to USA Today.
But these small victories are all due to huge amounts of work, on the part of volunteers, activists, and more. And you can be part of this change — here's how.