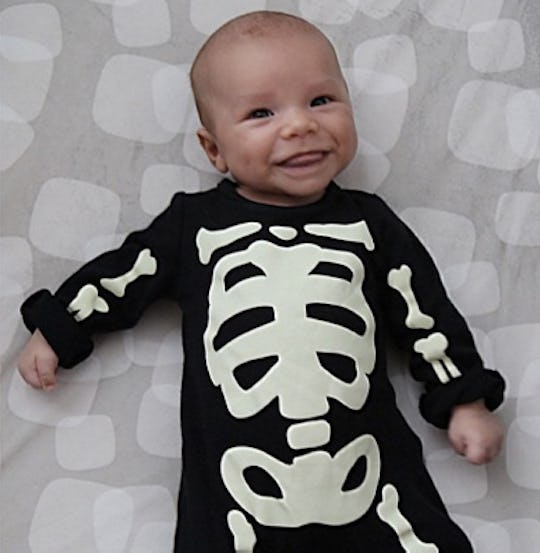 Naya Rivera's Son Josey Made His Instagram Debut This Halloween, & The 2-Month-Old Is Cute As A Button
Just like every Halloween, we were lucky enough to enjoy a steady stream of awesomely-costumed celebs in our Twitter and Instagram feeds this weekend. And while watching our favorite actors/singers/reality stars dress up is always a blast, seeing celeb babies all dressed up is what'll really make your heart melt. Case in point: This Halloween, Naya Rivera's son Josey made his Instagram debut, sporting a seriously adorable skeleton onesie and flashing a big 'ole smile at the camera. And he was 
Rivera welcomed her first son with husband Ryan Dorsey in September, according to Us Magazine. And while Rivera was pretty vocal about the trials and tribulations of her pregnancy, she's been a bit mum about Josey ever since his birth, and done her best to keep him out of the limelight. That is, until now: On Sunday, Rivera showed off  the beaming Josey to her 1.4 million Instagram followers, and they were (understandably) pretty stoked. 
It's undeniable that Rivera took pregnancy in stride — even posing nude for Yahoo Style in her third trimester. And aside from talking about her love for Paige and Gap maternity wear, on Sept. 30 she opened up about dealing with people who scrutinized her changing body and how she handles it. "I just keep in mind that I've never met these people, and they've never had the privilege of meeting me, so they're, like, strangers as far as I'm concerned," she said. "So you can't really take what they say to heart." On the newness of motherhood, the former Glee actress continued:
The whole thing, really, has been surprising and new! It's such a change physically, mentally, and in terms of lifestyle, that I definitely didn't know what to expect going into it. I have friends who are moms, and you hear stories and stuff, but it's never the same until you actually experience it yourself.
From sharing pics of her nursery to behind-the-scenes photos of her baby shower, the 28-year-old let her fans in on all the fun she's been having prepping for Baby No. 1. Rivera also took up blogging shortly before Josey's birth, talking about how her and Dorsey are changing their lives for their little one...which was full of excitement and anxiety. In one of her blog posts, she shared:
When I reached the final leg of my pregnancy, I was ecstatic. I could see the finish line and it felt so good. Sure, my back was on fire and I was tipping the scales at numbers I didn't think I could ever reach, but who cares?! WE'RE ALMOST DONE! Being in my third trimester means hard work is ahead and every day a new body part aches or seemingly falls apart. But it also comes with its share of really fun and exciting things too.
Yep — sounds familiar.
Image: nayarivera/Instagram