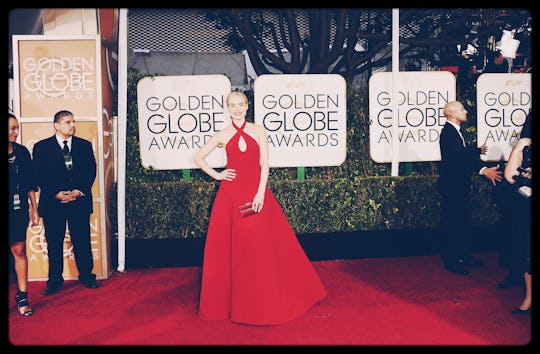 Jason Merritt/Getty Images
NBC Won't Livestream The Golden Globes, But There Are Still Ways You Can Follow Along
All sidled up to your laptop and ready for a glorious night of livestreaming the Golden Globes? Not to be the bearer of bad news, but as it turns out, NBC won't livestream the Golden Globes, after all. If you don't have a friend with a real live TV set — in our generation of Netflixers, it's par for the course — don't despair: There's a few other ways to catch the first of what's shaping up to be an interesting awards season.
Admittedly, the Golden Globes isn't the most prestigious award event out there, but they're usually an awesome way to predict what the Oscars have in store. They're also a whole lot of fun, from the red carpet interviews to Ricky Gervais' controversial — and fantastic — witty barbs.
Kick Off the Night By Watching E!'s Red Carpet Coverage
E! will be covering the red carpet and chatting with some of the biggest stars from this season. Get a glimpse of Jennifer Lawrence, Leonardo DiCaprio, Will Smith, Kate Winslet, Amy Schumer, and Eddie Redmayne walking the carpet. While I hope they're wearing some awesome getups, it would also be great to hear reporters ask female celebrities about more than just who they're wearing. This could be the year #AskHerMore actually takes hold.
E!'s online streaming starts at 5:55 p.m. ET. Keep up with the arrivals and tune into E!'s Golden Globe red carpet coverage.
Watch The Live Stream On Gossip Cop
NBC may be snubbing those of us without cable, but luckily Gossip Cop will livestream the Golden Globes. I'm not sure how, but Gossip Cop will be covering the full event beginning at 8 p.m. ET. After watching the red carpet on E!, head over to Gossip Cop to livestream the Golden Globes.
Stream It On PlayStation Vue
This one comes with a caveat. If you live in New York, Miami, Chicago, Dallas, Los Angeles, Philadelphia, or San Francisco, you can use your PlayStation Vue to livestream the Golden Globes. Sony's internet TV service only works in said cities, but it does come with a subscription to NBC, so you can watch the network's live coverage.
Skip the Boring Stuff & Get the Highlights
Whether you've got a short attention span, your internet is too slow to handle live streaming, or you want to surreptitiously keep up with the Golden Globes at your in-laws' dinner party, skip the livestream. Plenty of awesome websites are offering up highlights of the show online.
Make sure to Follow the Golden Globes themselves on Twitter too. @GoldenGlobes has already shared red carpet set-up and the great news that Harrison Ford will be presenting an award. They'll likely be re-tweeting the best celebrity tweets and pictures throughout the night, as well as any highlights on stage at the Beverly Hilton.
Last but definitely not least, Romper will have all eyes on the Globes tonight, which means our Twitter feed will be covering all the best (or most cringeworthy!) moments and wins. Check out @Romper for an instant amalgamation of GIFs, quotes, and reactions.