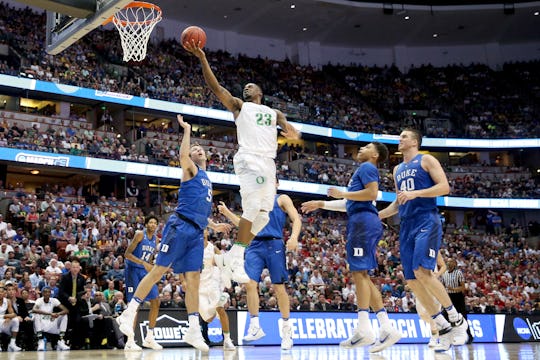 Sean M. Haffey/Getty Images Sport/Getty Images
NCAA Moves Games From North Carolina In Protest Of Its Transgender Bathroom Law
Looks like the Blue Devils and the Tar Heels will be traveling next March. New York Magazine has reported that the NCAA is relocating seven upcoming championship basketball games from North Carolina due to the state's controversial "transgender bathroom bill," also known as HB2. House Bill 2, a vicious attack on the LGBT community, not only restricts public bathroom and locker room use to the sex listed on a person's birth certificate, it also prevents the passing of any local laws that would protect citizens from discrimination based on sexual orientation or gender identity and expression.
Since HB2's passage in March, several state governments – and almost 20 local governments – have issued travel bans barring their employees from visiting the state on work-related trips. The New York Times reported that by April, the Charlotte Convention Center had already lost more than 20 conventions, resulting in a loss of approximately $2.5 million in revenue. The film industry is also boycotting the state; Fox, Miramax, The Weinstein Company, Lionsgate, and A&E have all pulled production from North Carolina. The NBA announced in July that its 2017 All-Star game would be moved from the state, PayPal cancelled plans to open a new office there, and scores of musicians and large corporations are also boycotting. North Carolina Repulicans, however, still haven't gotten the message.
You would think the fact that North Carolina has already lost hundreds of jobs and millions of dollars would be enough to get state lawmakers to repeal this particular piece of legislation, but they held fast. In May, the Department of Justice notified Governor Pat McCrory that HB2 was in violation of Title VII of the Civil Rights Act of 1964, Title IX of the Education Amendments of 1972, and the Violence Against Women Reauthorization Act of 2013, and that the state could lose billions of dollars in federal funding if it allowed the new law to take effect. The state did not comply, and the DOJ subsequently filed a complaint against McCrory, the state of North Carolina, the University of North Carolina and its Board, and the North Carolina Department of Public Safety.
Duke University and the University of North Carolina at Chapel Hill have both expressed in favor of the NCAA's decision to pull the games from the schools' home state. New York Magazine reported that Duke's athletic director, Kevin White, stated openly, "We deplore any efforts to deprive individuals, regardless of sexual orientation or gender identity, of legal protections and rights."
UNC's Bubba Cunningham stated that "Carolina Athletics is steadfast in its commitment to fairness, inclusion and ensuring that all who come to our campus for athletics events are welcome." McCrory and Kami Mueller are expected to pout in a corner for the remainder of the basketball season.