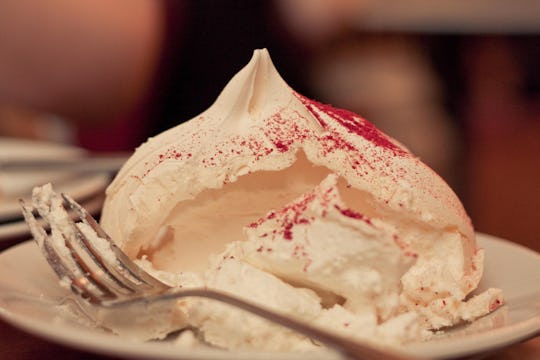 Need A Vegan Egg Replacement For Baking? A Can Of Chickpeas Might Be Your Answer — VIDEO
If you're a practicing vegan than you're well aware of the struggle that is finding protein substitutes that look, taste, and behave like the real things they're imitating. Sure, dairy-free options for cheese or ice cream are a dime a dozen and as society becomes more conscious of the type of food being consumed, it's easier to find delicious ways to enjoy meat-free meals. But there's one "holy grail of veganism" that's been, well, as difficult to locate as that wooden cup Indiana Jones was so obsessed over: vegan egg replacement for baking.
That was, of course, until French chef Joel Roessel found a new and innovative way to use the leftover juice in a can of chickpeas, otherwise known as "chickpea brine." The gooey, juicy substance has now been coined "aquafaba" by vegan baker Goose Wohlt, a "latin-ish" term meaning "bean liquid." While other substitutes like Ener-G Egg Replacer reportedly lack the ability to replace the signature fluffy and lightweight texture of beaten eggs, when whipped, aquafaba takes on a remarkably similar texture to that of real eggs. Now delicious cakes and meringue pies are a possibility, and the vegan world is celebrating accordingly. Check this out:
As it turns out, aquafaba isn't just useful for meringue (although honestly, if you've got that, what else in the world could you possibly need?) Here's a look at just some of the things you can do with chickpea juice.