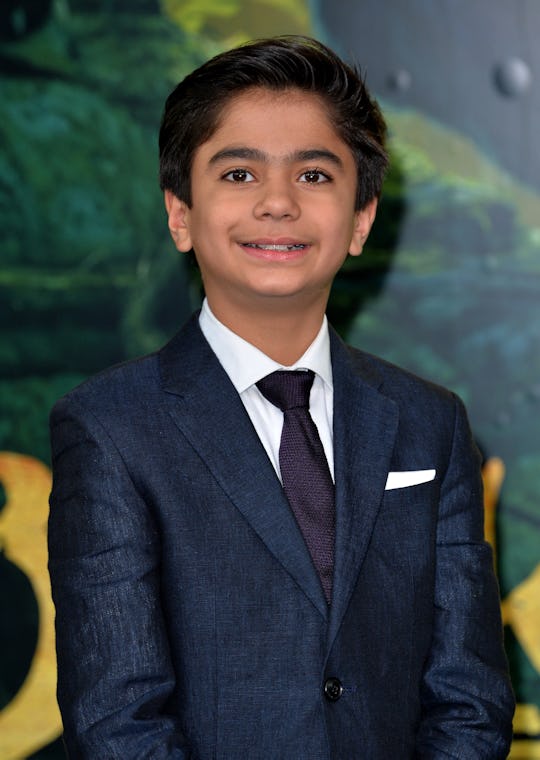 Anthony Harvey/Getty Images Entertainment/Getty Images
Neel Sethi Needs To Be In The 'Jungle Book' Sequel, Because He & Baloo Were A Perfect Duo
For the last two weeks, adults and children have been flocking to movie theaters to see director Jon Favreau's retelling of Disney's 1967 classic adventure tale The Jungle Book. And while most would agree that the film's breakout success is due in large part to its spectacular visual effects and incredible storytelling, the super-talented cast certainly played a huge part in making the film an instant hit. And I'm not just talking about the star-studded slate of voice actors, including Idris Elba (Shere Khan), Bill Murray (Baloo), Ben Kingsley (Bagheera), and Lupita Nyong'o (Raksha). The 12-year-old actor who played Mowgli has gotten such rave reviews for his performance that fans are already calling for more. And, specifically, they're saying that any Jungle Book sequel needs Neel Sethi, because his performance as Mowgli was pretty amazing.
Though starring in The Jungle Book was Sethi's first time on the big screen, the young actor felt amazingly at ease with handling the acting challenges presented in the film, according to The Independent. In that interview, Sethi admitted that, while he'd never seen the Disney classic cartoon before or read Rudyard Kipling's story, he had an easy time getting into the character of Mowgli. That's pretty remarkable considering Sethi was the only human character in the film, which meant he often had to interact with scene elements that were more imagined than real.
Speaking to The Independent, Sethi said that Favreau played a big part in making those interactions seem natural.
There were puppets that helped me, so it wasn't just a tennis ball that I was trying to have emotion with. When an animal is supposed to be sad, the puppet would drop its head [Sethi makes sad face], and when it was happy, it would be happy [arms up, huge smile]. Jon [Favreau, director] got into the puppet at times. I got to interact with him which made it a lot easier.
Sethi said that the director often encouraged him to try new or different things in the movie, giving the young actor a chance to make the performance seem even more genuine:
He let me do whatever I wanted, then he would be like 'Let's try it a different way.' We would just see what worked and what seemed right. Even if we got it on the first take, and he would be like 'Ooh, that was good. [Points at the table] That was good. [Points at me] That was good. [Points at the window].'
But will Sethi be returning to the blue screen for the next chapter in Mowgli's jungle adventures? There's been no official news so far, but the actor recently told The Independent that playing the role of the man cub was such fun that he'd totally be on board to do it again:
I want to do Jungle Book 2. I don't know what Disney is thinking... I want to keep playing Mowgli.
And make no mistake, there will definitely be a part two in Mowgli's story. Thanks to Sethi and the rest of the cast — along with the movie's stunning visuals — the remake has earned critical acclaim from all corners. And so far, the CGI-packed live-action take on the Disney classic is on track for earning all the money: the film has raked in more than $533 million since opening on April 15, according to Yahoo News, and has taken first place at the box office for two weeks running. Wasting no time after the film's blockbuster success, Disney has already announced a Jungle Book sequel, BBC News reported on Tuesday.
According to the BBC report, the studio has already confirmed plans to bring Favreau back for the movie sequel. And while the Mouse House execs didn't say whether Sethi would be returning — or exactly when fans could expect the next movie — the studio did announce that it has already claimed several release dates for a slate of live-action tales, including sequels to The Jungle Book, 101 Dalmatians, Mary Poppins, and Maleficent.
How cool would it be to watch Mowgli grow up in a sequel — or even a series of sequels (like Harry Potter)? Well, while fans wait to hear exactly how plans for The Jungle Book 2 will play out, there's still time to catch the beginning of Mowgli's tale. So my advice for those still on the fence about whether to see Jon Favreau's version of The Jungle Book is simply: Go. Go now. It isn't often that fans get to see a young star make such a wonderful start, but if his first major role is any indication, Sethi just might be the one to watch.