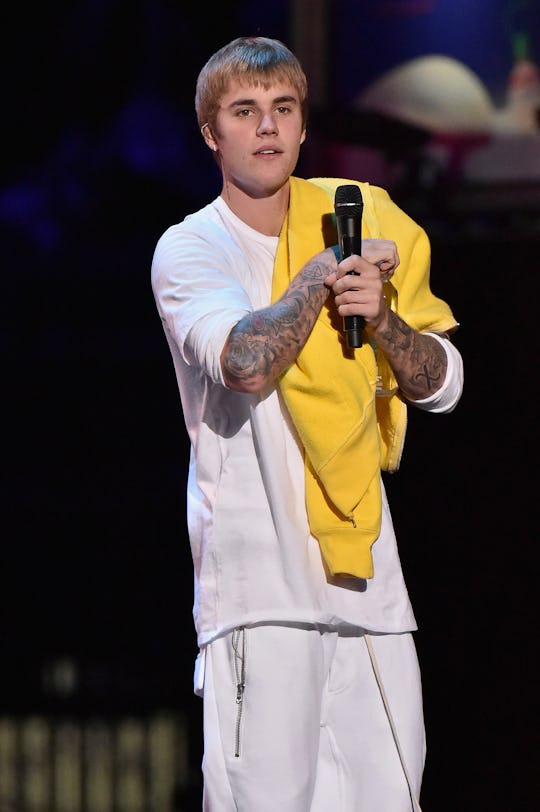 Mike Coppola/Getty Images Entertainment/Getty Images
Bieber's Neighbors Have A Bone To Pick With Him
Court documents filed on Wednesday by one of his neighbors allege that, for years now, Justin Bieber's behavior has reportedly been anything but neighborly, on multiple accounts. The singer's Calabasas, California neighbors claim that Justin Bieber "is a bully" who "has been spitting [at], punching and bullying other members of the public with impunity for years," and are now looking for more compensation for all that they've allegedly endured. Bieber's neighbors are asking him to pay for alleged damages that, by their estimations, would allegedly "easily exceed $1 million," though currently Bieber's lawyers are working to "limit the possible damage award to $25,000." Romper has reached out to Bieber's legal representation and is awaiting a response.
This isn't the first claim made against Bieber by his neighbor, Jeff Schwartz. In 2014, Bieber doled out $89,000 after pleading no contest to Schwartz's allegations that Bieber egged his home and spat on him. Bieber was also required to attend anger management classes. This new set of allegations, however, appear to be a lot more serious, claiming that, "without any provocation or justification, Bieber allegedly assaulted and battered Mr. Schwartz by allegedly spitting un his face and threatening to 'f---ing kill' Mr. Schwartz and 'f---ing kick his ass" after Schwartz allegedly requested that Bieber drive more slowly through the neighborhood. What's more, Schwartz alleges that Bieber's bodyguards threw anti-Semitic language at him, threateningly calling him a "little Jew boy."
Schwartz is asking for more compensation from Bieber due to the alleged "emotional distress" that both he and his family have suffered, saying that Bieber has allegedly "terrorized" him. The documents reference a pattern in Bieber's behavior, including multiple alleged assaults, and claim that "the laundry list of Defendant's above-referenced offensive and despicable conduct will be presented to the jury in the trial of this action."
These claims come almost immediately on the heels of Bieber's indictment in another incident that bears a long timeline. In 2013, he was accused of "allegedly ordering a beatdown on a photog in Argentina and then stealing his money and gear," TMZ reported, though Bieber and his legal representatives have disputed these claims completely. Regardless, Bieber is not allowed to return to Argentina until the case has been settled, though, currently, Bieber's lawyers are working to appeal the indictment.
Since his career began at a particularly young age, Bieber has been put in the spotlight. Though the undue pressure put on a child star is understood, these allegations could paint a very disturbing picture and pattern of conduct for the 22-year-old, if true. Whatever the case may be, it seems that Bieber's lawyers are going to be very busy in coming months, and are likely hoping that nothing more is added to their plates.