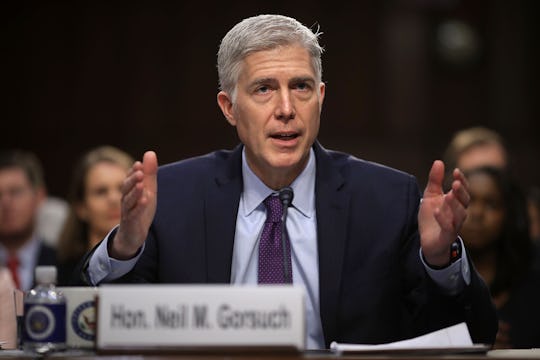 Chip Somodevilla/Getty Images News/Getty Images
Read Neil Gorsuch's Thoughts On Women's Health
Judge Neil Gorsuch's confirmation hearings on Tuesday unearthed a lot more questions than they did answers. Though he remained vague when asked how he'd rule on a variety of subjects, Gorsuch's previous statements give a bit more insight, especially where women's health issues are concerned. The following Neil Gorsuch quotes about abortion and women's health shed light on how he's likely to rule in the future as a Supreme Court justice.
In the past, when asked for his own opinions on the constitutionality of women's health laws, by and large, Gorsuch has often referred to existing laws as his response. Rather than inserting his own opinions, he generally tends to quote specific aspects of the Constitution as a way to justify his stance. In short, he appears to value impartiality over all else. Gorsuch previously acknowledged this tendency himself, telling Tuesday's audience: "I have offered no promises on how I'd rule in any case to anyone, and I don't think it's appropriate for a judge to do so," while promising that he would work to keep "an open mind."
Whereas he has refrained from answering many direct questions on other topics, however, Gorsuch has been more open about his thoughts on existing Supreme Court rulings on what remains a highly-contested issue in Trump's presidency: abortion rights. His commentary, shown below, speaks for itself.