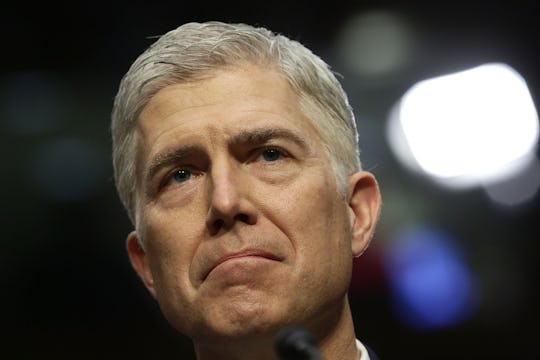 Alex Wong/Getty Images News/Getty Images
Neil Gorsuch's Maternity Leave Controversy Explained
On Monday, the confirmation hearing for Judge Neil Gorsuch, President Donald Trump's Supreme Court nominee, began. (And somewhere in the woods, Merrick Garland went quietly walking with Hillary Clinton, probably.) Gorsuch will face many tough questions over the course of his hearing, and it's likely that some of those questions will focus on parental leave, because, according to new allegations made by a former student, Neil Gorsuch's record on paid parental leave may be more concerning than previously thought.
In a letter posted Sunday by the National Employment Lawyers Association and the National Women's Law Center, a former law student of Gorsuch alleged that, while Gorsuch was teaching at the University of Colorado Law School, Gorsuch made some troubling remarks about women and employment. Jennifer Sisk, the former student, alleged that Gorsuch said companies should protect themselves by asking women about their plans to have children; Specifically, she wrote,
He asked the class to raise their hands if they knew of a female who had used a company to get maternity benefits and then left right after having a baby. Judge Gorsuch specifically targeted females and maternity leave. This question was not about parents or men shifting priorities after having children. It was solely focused on women using their companies.
Gorsuch did not immediately respond to Romper's request for comment. NPR, however, noted that another student disputed this account of Gorsuch's comments on maternity benefits, and a number of women who have clerked for Gorsuch have defended his record.
"Although Judge Gorsuch did discuss some of the topics mentioned in the letter, he did not do so in the manner described," Gorsuch's former student and current University of Colorado law student Will Hauptman wrote in a letter to the Senate Judiciary Committee, according to NPR. "The judge was very matter-of-fact in that we would face difficult decisions; he himself recalled working late nights when he had a young child with whom he wished to share more time. The seriousness with which the judge asked us to consider these realities reflected his desire to make us aware of them, not any animus against a career or group."
Still, if Sisk's account is accurate, Gorsuch's thinking on the issue is definitely troubling. While companies are technically allowed to ask women during the hiring process about their plans to have children, they are not allowed to make hiring decisions based on those answers. Still, despite the law, pregnancy discrimination remains rampant in the workplace, according to a recent report from The National Partnership for Women and Families. Women are denied promotions because of the idea that, at some point, they may get pregnant and leave their positions. Sometimes, they're fired when they do get pregnant.
Ellen Bravo, the executive director of Family Values @ Work, told Romper that Gorsuch's alleged statements were disturbing for a variety of reasons, in part because, "The assumption that women manipulate leave plays into stereotypes behind massive discrimination against women." Furthermore, she said, "It's naïve to think that men don't want time for family... Babies don't just have mothers."
We need more understanding for women in the workplace, not less, especially when it comes to paid parental leave. The United States lags behind most other country in the world in providing protections for new parents, so much so that, according to a report by the International Labor Organization, the United States is the only country besides Papua New Guinea that doesn't guarantee paid leave for new mothers.
If Sisk's letter does accurately represent Judge Gorsuch's views on parental leave and working mothers, that's not a good sign for those hoping for progress when it comes to equality in the workplace. Here's hoping that's not the case.