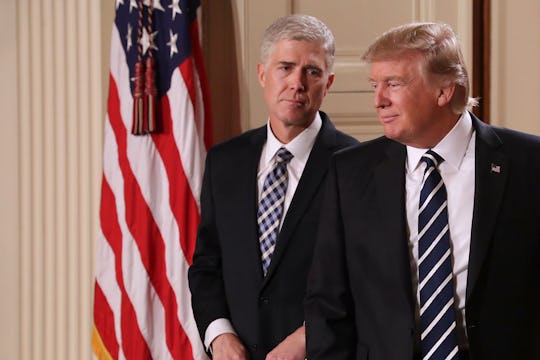 Chip Somodevilla/Getty Images News/Getty Images
Neil Gorsuch's Stance On LGBTQ Rights Is Unclear
Announcing the much-awaited news on Tuesday night, President Donald Trump revealed his pick for the U.S. Supreme Court's newest nominee: Neil Gorsuch. Though many suspected that he would get the nod, to others, Gorsuch is an entirely new name. The judge is a surefire conservative, but he has yet to be explicit about a few views that he holds — some of which are of the utmost importance to certain Americans. Neil Gorsuch's stance on LGBTQ rights, for example, is a bit unclear.
The ivy league educated member of the 10th Circuit Appeals Court in Denver has never ruled on an LGBTQ case. In an opinion piece for The National Review entitled "Liberals & Lawsuits," however, Gorsuch uses the issue of gay marriage as a trope to explain a disconnect that he perceives between liberal public opinion and liberal legislation:
Liberals may win a victory on gay marriage when preaching to the choir before like-minded judges in Massachusetts. But in failing to reach out and persuade the public generally, they invite exactly the sort of backlash we saw in November when gay marriage was rejected in all eleven states where it was on the ballot.
Certainly, aside from talking about LGBTQ issues hypothetically, Gorsuch has done very little to clarify his position on the matter. Many view his constitution-based conservatism as the key to decoding his beliefs. In a study by Washington University researchers entitled "President-Elect Trump and his Possible Justices," authors predicted that Gorsuch's judicial actions would include "voting to limit gay rights, uphold restrictions on abortion and invalidate affirmative action programs," but, again, these are just speculations.
Sarah Kate Ellis CEO and president of GLAAD, spoke out against Gorsuch's nomination, issuing the following statement:
He has record of advocating for anti-LGBTQ rhetoric or supporting candidates that are in favor of open discrimination against people and families who simply want to be treated the same as everyone else. Gorsuch's presence on the Supreme Court will affect the law of the land for generations to come – long after Trump is out of office, and will turn back the clock on equality and acceptance.
Certainly, Gorsuch has frequently valued religious freedom over all else, once ruling against the Affordable Care Act's requirement that companies provide contraceptive coverage for their employees in the infamous Hobby Lobby case. This, understandably, has many worried about what this belief system might mean for LGBTQ individuals. Circumnavigating LGBTQ rights under the guise of "religious liberty" could insist that many existing LGBTQ rights might have to be relinquished, making Gorsuch's potential judicial influence even more significant.