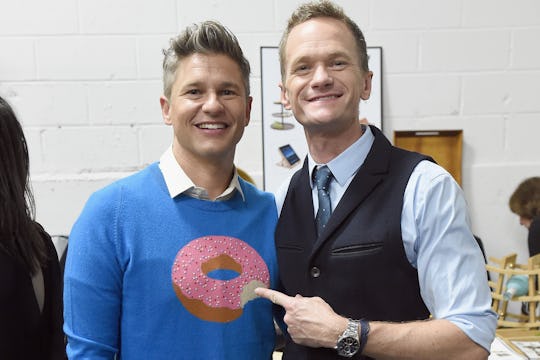 Nicholas Hunt/Getty Images Entertainment/Getty Images
Neil Patrick Harris' Family Costume With His Kids Is A Vintage Hollywood Halloween Hit
Happy Halloween! It's time for treats and tricksters alike to show off their Halloween finest as the sun goes down and jack o'lanterns alight. I'm sure your social media feeds have been just like mine today: One long scroll of hilarious, spooky, and adorable Halloween costumes. Everyone loves a group costume, and actor Neil Patrick Harris and husband David Burtka have been masters of the family Halloween costume for six years now. For this All Hallows Eve, Neil Patrick Harris's family costume with his kids went Hollywood's golden age for some seriously old school cool.
Harris donned a messy black wig, bushy mustache and eyebrows, and wire spectacles as American comedy icon Groucho Marx — cigar included. Burtka went for the strong silent type — silent film, that is: With a bowler hat, cane, and tiny mustache, Burtka dressed up as Charlie Chaplin. Their 6-year-old twins, Gideon Scott and Harper Grace, went as two classic Hollywood icons of their own: James Dean and Marilyn Monroe, respectively.
Harper totally rocked the Gentlemen Prefer Blondes look, complete with hot pink satin dress, opera gloves, blonde wig, and a "diamond" necklace that would stun Harry Winston himself. Meanwhile, Gideon stared down the camera all Rebel Without A Cause-like, with a cute greaser hair style and popped collar. The family completed their Halloween look by taking the picture in an old Hollywood theatre.
It has become somewhat of an internet tradition at Halloween for NPH to reveal their family costume each year, because his family will win Halloween group costumes for life. Like, I'm sure your family's Halloween costume is awesome and you put a ton of work into it, but, I'm sorry. NPH wins every time.
Last year, their Halloween family costume was Star Wars: NPH as Obi Wan, Burtka as Han Solo, Harper as Princess Leia, and Gideon as Luke Skywalker — super clever twin costume, of course. In 2014, their family Halloween costume was a tribute to the Adam West era of Batman — no gritty reboots for team NPH:
In case it isn't glaringly obvious, NPH kind of has a thing for Halloween. He told Late Night host Seth Myers last month that as awesome as their family costumes are, his kids are getting to an age where they want to make their own costume decisions, so they've worked out a compromise: They do one big family costume for Halloween itself, but the kids get to pick out their own individual costumes for school events and parties.
Unfortunately, Harris lamented his daughter's choice of Halloween costume this year: Monster High, or as NPH called it, "goth prostitute." Gideon, he said, wanted to be R2D2, but that comes with its own costume challenges: "You can't sit in a car. You can't go through doors. How do you pee?" Individual Halloween costume horrors aside, at least we can count on the family costume to be amazing, as always.