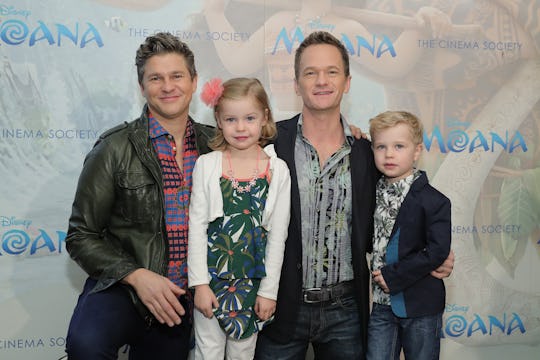 Neilson Barnard/Getty Images Entertainment/Getty Images
Neil Patrick Harris Posts A Photo Of His Son's Christmas List, & It's So On Point
Neil Patrick Harris might be getting ready to bring us all into the very troubling world of A Series Of Unfortunate Events, but his personal life is teeming with heartwarming, holiday cheer. While his kids are usually known for winning at Halloween, this year, they're winning Christmas too. Neil Patrick Harris posted a photo of his son's Christmas list and it's so on point for 2016.
Harris, 43, married his husband David Burtka back in 2014 in a beautiful ceremony in Italy. The couple has been together for more than a decade, engaged for several years, and were waiting for same-sex marriage to be legalized in New York before tying the knot. They also had two children together: twins, Gideon and Harper, who are 6.
The fraternal twins were conceived using two embryos: one inseminated with Harris' sperm, and one with Burtka's sperm, Harris explained to Oprah back in 2012. The embryos were then implanted into a surrogate who carried the twins to term. Harris also pointed out that he and Burtka were just plain lucky that both embryos took and they ended up with twins.
Harper and Gideon have become just as beloved as their parents by fans, as they are often seen on Harris' Instagram account. The whole Burtka-Harris clan is especially lauded for the elaborate Halloween costumes they've been putting together for the last five years.
But it looks like the Burtka-Harris kids are also going to be winning Christmas this year. Harris posted a photo to Instagram on Monday sharing Gideon's adorable handwritten Christmas list where he asks for a bounce house and a life-sized rocket ship.
Given how harrowing a year 2016 has been, a bouncy house would be great stress relief and a rocket ship with a fully-paid trip to outer space wouldn't go unappreciated, either. Gideon might be on to something here.
Parents who have peeked at their own kids' Christmas wish lists could probably share some similarly cute requests. A roundup from Deadspin featured some of the most wild requests from kids' Christmas wish lists over the years which included:
"pieces of ribbon with stuff on them"
a "giant squishable cinnamon bun"
a "poop sandwich" (trolling Santa?)
"a hot dog"
"$10,000" (same here, kid)
"1,000,000 pieces of shrimp"
a "girl elf"
"a dozen swords"
"Rob Gronkowski"
"1,000 cheese doodles"
an iPod touch (which wouldn't have been strange except the kid's mom pointed out this particular list was meant for his guinea pig)
and a particularly timely wish from an 11-year-old: "more freedom for our country"
After sharing the photo on social media, Harris spent the rest of the day spreading Christmas cheer as part of Christmas Tree Promotion Board's latest campaign. He spent the day hiding behind a Christmas tree at the South Street Seaport in New York City, speaking to passers-by through a microphone. When two twin sisters walked by, they were so excited about the talking tree that Harris revealed his true identity to the girls and their family, and gave them tickets to see The Lion King on Broadway.
It might not have been a rocket ship to the moon, but Broadway tickets are a pretty sweet Christmas gift – especially when they've been gifted by a Tony Award winner.