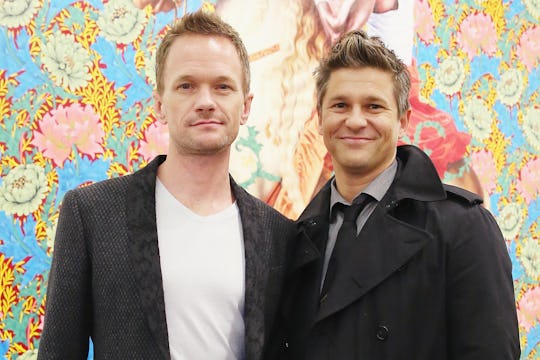 Mireya Acierto/Getty Images Entertainment/Getty Images
Neil Patrick Harris' Twins Got Pampered At The Plaza, Complete With Adorable Robes — PHOTO
It was always pretty safe to assume that Gideon and Harper Burtka Harris had cooler-than-average lives, but now there's proof: according to E! News, Neil Patrick Harris' twins visited the Plaza Hotel in New York City Saturday, hanging out in robes in a penthouse suite, and having afternoon tea in the Palm Court. The actor posted snaps from the day to his Instagram account on Sunday, explaining that the 5-year-olds — his children with husband David Burtka — got to enjoy some extra-special pampering after the hotel let them stay in the swanky suite. In the Instagram pic, the twins can be seen eyeing some seriously yummy treats, lounging in their hotel room, and posing, naturally, in front of the hotel's famed Eloise portrait (complete with total, requisite style and sass — well played, Harper).
Of their day at the fancy hotel, Harris wrote,
Yesterday I filmed a secret thing that I can't discuss, but it was filmed at the Plaza Hotel. When we wrapped, they let us stay in a fancy penthouse suite and have tea in the Palm Court. The kids were blown away (as was I). Thanks, @theplazahotel, for spoiling my children.
Not too shabby. Also, I'm jealous.
The iconic NYC hotel is basically a dream come true for both adults and children, thanks in part to Kay Thompson's classic children's book series about the fictional little girl who lived on the top floor of The Plaza. The hotel even features a special, two-room, Betsy Johnson-designed Eloise Suite, complete with "pink, candy striped wall panels outlined with gold leaf molding, a white zebra-print carpet, [and] a King-size bed made up with custom-designed bedding" (my inner 5-year-old is swooning right now). But it also sounds like you pretty much have to be the offspring of two famous Hollywood actors in order to stay there: prices for the Eloise Suite start at $2,043 per night (I love my kids, but not that much).
Gideon and Harper definitely seem to live a much swankier life than, well, let's face it, most adults do. But then again, when your dads are NPH and Burtka, you know your family's cool factor is higher than most. Just last week, Harris posted a shot of himself and Burtka with former Secretary of State Hillary Clinton and former President Bill Clinton (no big deal), and the couple also seem to be big fans of luxe tropical vacays.
But even despite their celeb status, Harris and Burtka definitely seem to be dads first and foremost, and both of their Instagram accounts are full of insanely cute photos of their gorgeous twins playing and hamming it up for the camera (let's not forget, of course, as BuzzFeed noted, that this hilarious family more or less wins Halloween every single year).
Harris and Burtka have been together since 2004, according to People, and were married in Italy in 2014. The super-sweet couple welcomed their twins in October 2010 by surrogate, using an anonymous egg donor. While the couple chose not to find out which twin was biologically-related to each of them, Burtka admitted to talk show host Wendy Williams that he and Harris definitely speculate on it as the twins grow and show their personalities:
The girl is, I think, mine. And the boy is his. He's a little more heady, and a little more intellectual, sort of needs to read people. Where's she's just like, 'hey everybody, I'm here!'
#familygoals.