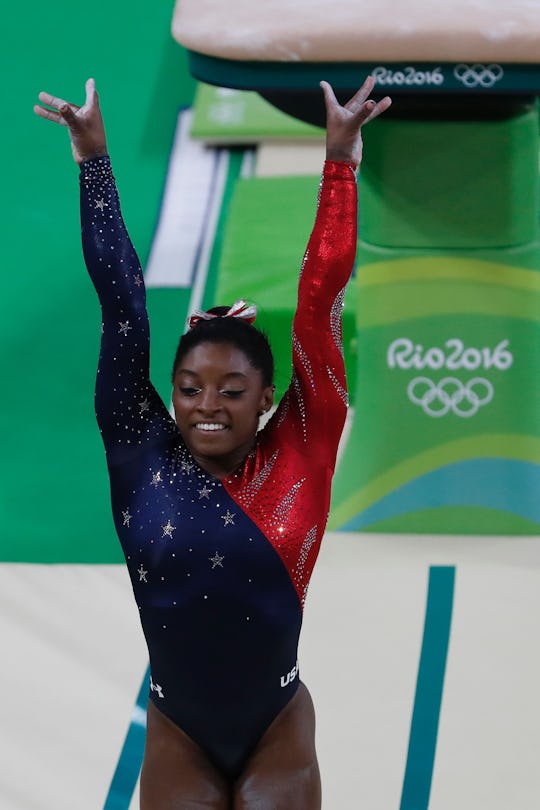 THOMAS COEX/AFP/Getty Images
Nellie Biles' Instagrams With Simone Will Give You All The Olympic Mom Feels
Simone Biles, at just 19 years old, is already the most decorated gymnast of all time. As she heads into the Rio Olympic Games, she's expected to dominate the competition. But before Biles was a star on the international Olympic stage, she was her mom Nellie's girl. If you want to catch a glimpse of what it's like to be Simone, just take a look at Nellie Biles' Instagram, which is full of images of her kids and absent any mention of her daughter's gymnastics career. I kind of love that.
Nellie is a retired nurse who also ran a chain of nursing homes. She adopted Simone and her younger sister Adria, when Simone was just 6 years old, along with her husband, Ron, who was also the girls' maternal grandfather, according to Texas Monthly. Her biological parents reportedly had substance abuse problems that made it hard for them to care for their children.
The complicated family history is no big deal among the Biles family, according to Texas Monthly, but has become an issue during the Olympic coverage. NBC commentator Al Tratwig has come under fire for going out of his way to point out that Simone's parents aren't really her parents, but her grandparents. People tried to point out on social media that Simone considers Ron and Nellie to be her parents and Tratwig clapped back with an ill-advised, now-deleted tweet that said, "They may be mom and dad but they are NOT her parents."
It was a tone-deaf move, for which Trautwig has since apologized, according to USA Today.
None of that seems to be of the slightest concern for Simone or Nellie.
In addition to chronicling the most normal-looking family photos you would never know include one of the world's most famous athletes, Nellie is pretty great on Twitter too. She tweets the everyday plugs for people to vote for Simone for the Teen Choice Awards, as any good mom would do:
Nellie also offers words of encouragement and strength to her daughter on Twitter:
But Instagram is Nellie Biles' strongest event. Take a look at some of the best images of Nellie Biles and her Olympic gymnast daughter from both her account and Simone's too.
The queen.
And her court.
Matching Christmas pajamas, check.
Throwback!
Nellie's own account includes a few proud mom shots like this:
Nellie's babies:
This looks like a fun trip to the West Coast!
Congratulations, Nellie. You have a beautiful family and raised one of the greatest American athletes of all time. And you seem totally chill while doing it.