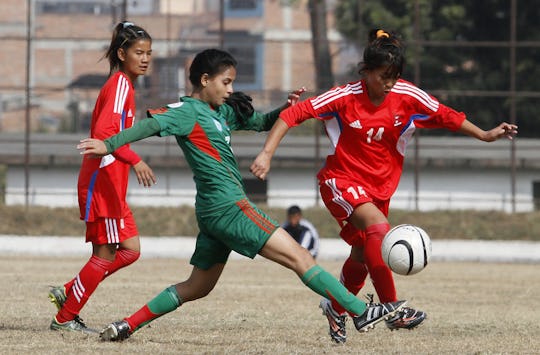 RAWJENDRA KC/AFP/Getty Images
Nepalese Schoolgirls Use Soccer To Avoid Falling Into The Sex-Trafficking Industry
No matter where they happen, earthquakes often have all sorts of devastating consequences. The recent quakes in Japan and Ecuador caused huge death tolls and left displaced residents sleeping on the ground in public places, massive infrastructure in ruin, and entire countries struggling to assist residents who lost everything. But even after the rubble is cleared away, these natural disasters can undermine the long-term safety of the most vulnerable members of a community, especially in a developing nation like Nepal, where an earthquake killed 9,000 people and left millions homeless back in April 2015. Now, one year after the 7.9 magnitude quake, Nepalese schoolgirls in one village are using soccer to avoid falling into the sex-trafficking trade. Even in a seemingly hopeless situation, the game offers the girls a chance.
Located high up in the Himalayas, the remote province of Sindhupalchowk has one of the highest trafficking rates in the country. Poor infrastructure, poverty, and a dearth of opportunities create conditions there that compel families to send their teenage children to other countries to earn money, Al Jazeera reported in a profile piece this week. It's one of the districts that the earthquake affected most severely, and according to the OSOCC Assessment Cell, social media indicates that child trafficking is increasing there as families fight to survive.
Sex trafficking is a horrible and pervasive reality worldwide. According to Equality Now, the global commercial sex trade exploits about 2 million children each year. Ninety-eight percent of sex trafficking victims are women and girls. And in July, Indian police uncovered a human trafficking network that had been targeting women and girls from the hardest-hit and poorest areas of Nepal by offering them lucrative work, The Guardian reported.
Many families in Sindhupalchowk have expressed concern about the trafficking issue in recent months, as some villages in the province report that they have not yet encountered any aid workers or government officials, and people are becoming desperate. Many families are still living in temporary shelters, and they do not have the means to rebuild.
Schools were some of the few facilities able to open soon after the earthquake. To keep girls excited about education and to discourage them from dropping out and potentially opening themselves up to trafficking, one secondary school introduced kids to soccer with the help of Coaches Across Continents, an organization that uses sports to make a social impact.
In addition to soccer, the Coaches Across Continents curriculum includes lessons on trafficking, HIV, and other social issues. One student, a 14-year-old named Monica, told Al Jazeera that soccer made her enthusiastic about going to school:
My favorite subject is science. Science broadens our minds... I want to be a civil engineer when I grow up because our country is mostly affected by the earthquake so I want to help build it again.
This initiative illustrates why it's so important to empower and educate girls. Human trafficking causes long-lasting and ruinous psychological scars for its victims. Even in times of extreme suffering for a community as a whole, girls should never be viewed as a commodity, but as autonomous and valuable human beings.
Coaches Across Continents and the province of Sindhupalchowk seem to be working toward bringing that much to the forefront.