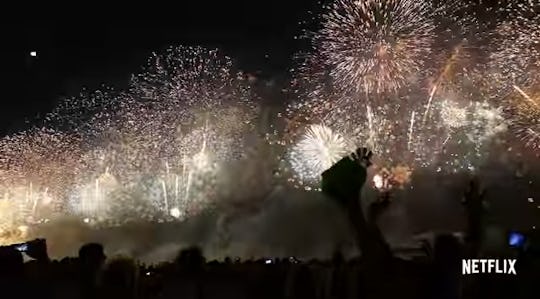 Netflix
Netflix Allowing Parents To Trick Their Kids Into Going To Bed Early On New Year's Eve
Here's a pro-tip for parents (and babysitters) everywhere: Netflix will help you trick your kids into going to bed on New Year's Eve again. For the second year in a row, you can stream a fake video countdown of the ball dropping on New Year's. There are six options of 10-second videos you can choose from: Puffin Rock, Care Bears & Cousins, Inspector Gadget, King Julien, Mr. Peabody, and Sherman and Project Mc2. Then you can tuck the kiddies in and break out the the good snacks.
It's rather genius. And also not entirely evil. The video does remind the more honest among us that it is actually midnight somewhere in the world. It can just actually be 9 p.m. It's cute, even if it is a little sneaky. But didn't a lot of you just wrap presents that were supposed to be from a dude named Santa? Rocks and glass houses, people.
There are a few problems with the video. It could totally work if you have a really little human who just doesn't know any better. But it's probable your kids will not actually be tired at the early hour you want them to get up to bed. Bedtime's always a pain — why would the holiday be any different?
Also, you're going to have to work the clocks if your little ones are able to tell time. And have you ever tried to reprogram the oven clock with a few glasses of bubbly (or worse, a New Year's hangover)? It's not for rookies. Then there's the problem of staying quiet enough while you actually ring in the New Year. Good luck with that.
While some parents will be tricking their kids into bedtime on New Year's Eve, a lot of people are actually just staying in this year to Netflix and chill... with a bottle of wine:
It's nice to know that no matter what route you take this year, Netflix will always have your back.
Image: Netflix