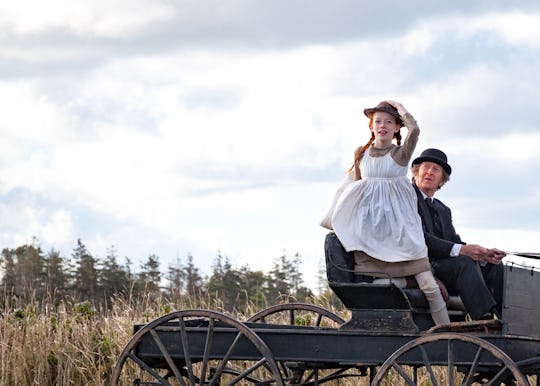 Marvin Moore/Netflix
Netflix's 'Anne With An E' Vs. The Novel: How Do They Compare?
A new interpretation of the classic L.M. Montgomery novel Anne of Green Gables is about to make its debut on Netflix after a well-received run on Canadian television. Called Anne with an E, the series looks at the old story through a new lens, tweaking familiar events to suit a more modern audience while still maintaining the qualities that drew fans to the book in the first place. However, an adaptation of anything as beloved by the masses as Anne of Green Gables will always make hardcore fans a little bit nervous about how their favorite book is treated onscreen. Exploring Netflix's Anne with an E vs. Anne of Green Gables shows they have nothing to worry about.
Anne of Green Gables told the story of spirited orphan Anne Shirley as she grew up in Avonlea on Prince Edward Island with her guardians, siblings Marilla and Matthew Cuthbert. Anne has been beloved by readers for a century because of a myriad of reasons, chief among them Anne's optimism, her resiliency, and her imagination. While Anne with an E remains true to the novel for the most part, it also elaborates and expands on many of the novel's events and themes, even when that can take a turn into some serious territory.
The Title
The most obvious difference is the shift in title: taking it from Anne of Green Gables to Anne with an E, the change reflects the overall difference in tone. The whimsy has given way to something grittier.
It's Darker & More Realistic
Showrunner Moira Walley-Beckett told The New York Times that she wanted the show to have a "documentary feel," with very specific period details and an emphasis on how Anne's past trauma has affected her. "I don't see the point in doing Anne in a way that's been done, that's very charming, teacups and doilies and 'Oh, Anne's in another scrape,'" Walley-Beckett said. "What's the more realistic way to show the way a girl like this, from a strange place, with enormous prejudices against her, would move through the world?"
It Handles Big Themes
Anne with an E takes seeds of ideas from the original novel and follows them to their logical conclusions, meaning that issues of poverty, prejudice, bullying, trauma, and sexism all come into play.
It Explores Anne's Past
Anne's life before she came to the Cuthberts was not a happy one; her childhood was full of abuse and mistreatment at the hands of her foster families. While the novel may hint at Anne's traumatic childhood, the Netflix series explores it, complete with flashbacks at key moments to fully illustrate how Anne feels.
It's A Feminist Series
The series once again doesn't wholly depart from the novel, but instead expands on it by embracing what made so many women love Anne: how empowering and ahead of her time she could be. Walley-Beckett described Anne as an "accidental feminist" to The Huffington Post Canada Living, but added, "I am not an accidental feminist, and I really wanted to tell this story now."
Anne Is Still Anne
But Anne is still the same character so many people have come to know and love. "I take nothing away from Anne," Walley-Beckett said in her interview with The New York Times. "She is buoyant, she's optimistic, she's bright, she's fiery, she's sunny, she's imaginative, she's curious. I just add in the reality of her history."
Anne with an E may be a little different than the book it was based on, but it's just telling the same story in a new way.