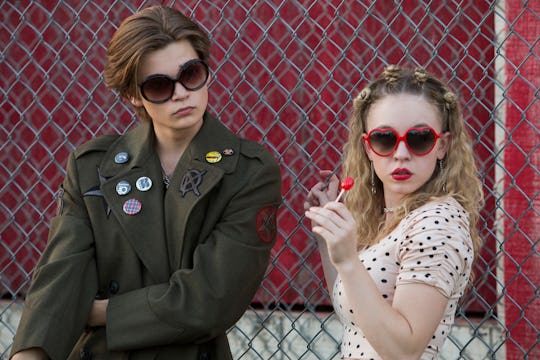 Scott Patrick Green/Netflix
Netflix's 'Everything Sucks!' Teaser Trailer Is All About The '90s Nostalgia — VIDEO
Netflix is about to launch a new teen comedy called Everything Sucks! that's grounded firmly in the past. It revolves around the misfits of a high school in Boring, Oregon in 1996, focusing on two groups specifically: the A/V club kids (the geeks, if you will) and the drama club (presumably the freaks). Now the new teaser trailer for Netflix's Everything Sucks! gives fans their first look at the show, while leaning hard into the show's '90s nostalgia at the same time.
The trailer features the main cast sitting in class together while a substitute teacher hits play on a VHS. Helpful tidbits appear on screen like the pop up videos of yore, reminding viewers of today that everything was a little bit more difficult twenty years ago: you had to use white out to erase your mistakes ("When delete had to dry," the pop up helpfully interjects), manually X someone out of your photos instead of untagging, and cart around countless CDs to keep your Discman satisfied.
The '90s weren't that long ago, but the trailer for Everything Sucks! wants you to keep it mind that it was a very different time — one where the height of classroom comedy was spelling out BOOBS on your calculator. When the show debuts on February 16, it promises to be a real throwback.
The quirky coming of age comedy will have ten half-hour episodes that chart the A/V club and drama club coming together to reach a common goal. According to Deadline, the two groups of outsiders "join forces to make a movie and endure the purgatory known as high school." That doesn't give much of a hint about who the characters are or what drives them, but it explains how everyone will be thrown together over the course of the first season. Peyton Kennedy and Jahi Winston star as two students named Kate Messner and Luke O'Neil, with their respective parents being played by Patch Darragh and Claudine Nako.
The show was created by Ben York Jones and Michael Mohan, and appears to be their first major foray into scripted series. Jones might be best known for writing and co-starring in the film Like Crazy, but he has also worked on several other films, both short and feature length. Mohan has written and directed several shorts, as well as the 2012 film Save the Date. ComingSoon.Net reported that Jones and Mohan took some inspiration from other coming of age shows that also revisited the past.
"Some of our favorite shows of all time — The Wonder Years, Happy Days, That 70s Show, Freaks and Geeks — looked back at bygone eras with 20 years of hindsight," Jones and Mohan said. "We think this is a great time to take a look back at high school and relive the fashion, music, and attitudes of the mid-90s the way we remember it. Not sensationalized, not watered down; but desperate, heartfelt, awkward, and exciting."
While referring to the '90s as a "bygone era" is distressing for those of us who lived through it, the show's setting might also make it resonate with audiences. At least that seems to be the hope of Netflix's Vice President of Original Content, Cindy Holland, who said, "We're looking forward to spending some time back in the '90s. Whether you were in A/V, drama, sports or band, we think everyone will find something to relate to in this coming of age story about the one thing that sucks above everything else — high school."
Luckily fans won't have to wait long to find out if Everything Sucks! captures their unique high school experience, because the premiere is only a few weeks away.
Check out Romper's new video series, Romper's Doula Diaries:
Watch full episodes of Romper's Doula Diaries on Facebook Watch.