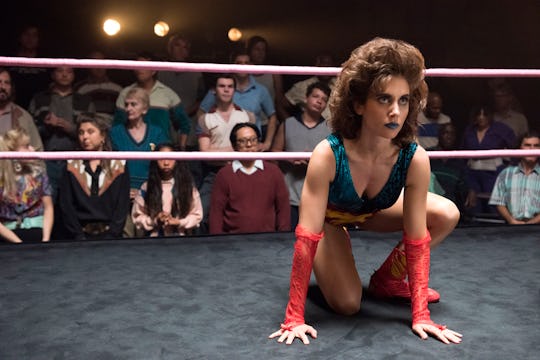 Erica Parise/Netflix
Netflix's 'GLOW' Soundtrack Is The Perfect '80s Tribute
Netflix's new series GLOW is set in the world of televised wrestling, following a group of women comprised of actresses, stuntwomen, and amateurs as they prepare themselves to star in the Gorgeous Ladies of Wrestling — the show within a show that lends the series its name. And GLOW is also just about as '80s as it gets. In everything from style to substance, it hits both the camp flashiness of the decade and its more dismal, high-waisted pants with pleats reality. That dedication to depicting the decade extends to the Netflix GLOW soundtrack, too, which is full of '80s classics.
Everywhere you look on GLOW, there's some kind of signifier of the most neon time in American history: shag haircuts, hair-sprayed bangs, soft pastels, and leotards with those high-cut leg holes. (Oh, so many leotards.) You never get a chance to forget which decade you're watching, and why would you want to? The soundtrack perfectly sets the '80s mood in all the right ways. It has hit songs to keep you grounded in the era and power ballads that reflect how empowering wrestling will be for the women involved, while at the same time not losing sight of the show's campiness, either. Here are just a few of the amazing tunes to look forward to throughout the season...
"The Warrior" By Scandal
By playing this over the opening credits of the first episode of GLOW, the show lets you know just what to expect: a distinctly 1980s story of women kicking ass.
"You Make Me Feel (Mighty Real)" By Sylvester
If you ever need to get your blood pumping during your aerobics class, you can't do better than this.
"Separate Ways (Worlds Apart)" By Journey
A song that will make you want to angry dance in a barn like Kevin Bacon in Footloose, a.k.a. the '80s summed up in four-and-a-half minutes.
"She's Got The Look" By Roxette
Can there be more perfect harmony than "She's Got The Look" playing over yet another scene full of shiny leotards? No. The answer is no.
"We Don't Get Along" by Go-Go's
Perhaps not the most memorable Go-Go's song, but one that perfectly suits the energy and mood of GLOW.
"Movin' Out" By Billy Joel
"Movin' Out" may be the kind of song your dad plays on long car rides (or is that just me?), but it's near impossible not to bop along to it.
"Head Over Heels" By Tears For Fears
Sometimes the '80s were so '80s that it begins to feel like a parody of itself, and nothing expresses that more than this classic Tears for Fears tune.
"Rock You Like a Hurricane" By Scorpions
It may have become so ubiquitous in '80s-set projects as to be cliche, but a show about TV wrestling that didn't give in to the urge to include "Rock You Like A Hurricane" isn't a show that I could personally get behind.
"Under Pressure" By Queen
There's truly nothing I can add to the conversation when it comes to a song this iconic, so I'll just stay quiet while you press play and enjoy.
"Invincible" By Pat Benatar
As the perfect culmination of everything GLOW stands for (women feeling powerful, getting ready to fight, and hair), Pat Benatar's "Invincible" brings it all home.
Throw these songs together in a Spotify playlist and you'll be ready to take on anyone in the ring — or even outside of it.