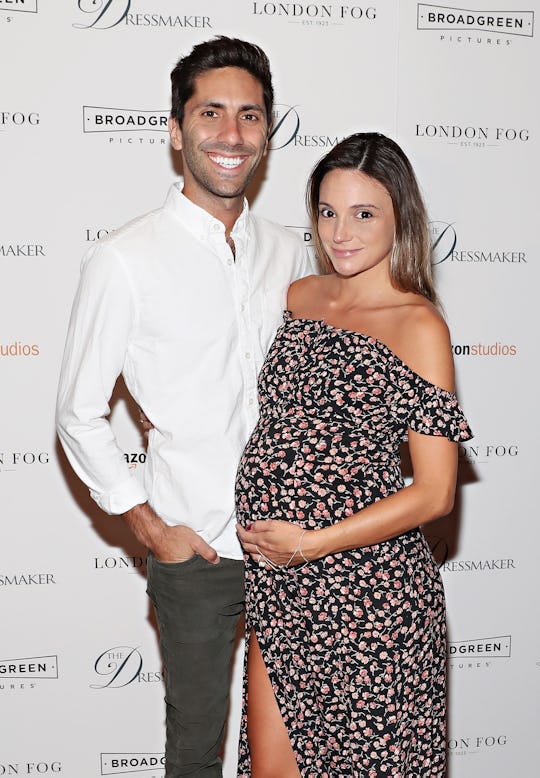 Cindy Ord/Getty Images Entertainment/Getty Images
Nev Schulman & Laura Perlongo Welcome Their Daughter, & Her Name Is Beautiful
Catfish creator Nev Schulman and fiancee Laura Perlongo welcomed their first baby, a daughter named Cleo James, on Friday, according to an Instagram that Schulman shared with the news. The couple have been sharing photo of Perlongo's growing pregnancy bump for the past few months, and Perlongo even went (almost) topless to the 2016 Video Music Awards, proudly showing off her bump.
When Perlongo became pregnant, she famously wrote an essay for ATTN titled "'Pregnant? You're Keeping It? Ew.' and Other Reactions" where she defended her and Schulman's choice to become parents even though they were "part of that 'lazy', 'self-absorbed' urban millennial generation that does not want to grow up in any traditional sense." Perlongo's awesome, honest approach to her decision to keep the baby was kick*ss, to put it plainly. Here's an excerpt:
And most of us still feel like we need to adhere to a modern version of our parent's footsteps or we aren't ready. Do the traditional things like meet (on an app), 2 ½ to 7 years of courting (sexual intercourse with birth control), proposal w/ring, wedding, and finally kids (because now is when we do it right?). And those are still great ways to live life and have or not have kids, but I wasn't expecting my friends to be be so shocked I was skipping around the blueprint. My parents, the Boomers, sure. But my millennial do-life-our-way friends too? Am I fucking up?
Over the last few months, it's been clear that she and Schulman were psyched to be parents, and their welcome Instagrams with their little girl only made it more evident. The caption to Schulman's new dad Instagram read:
Best. Thing. Ever. Cleo James arrived at 6:01am weighing 6lbs 10oz. Shout out to my baby mama@el_peego for delivering this bundle of joy.
Perlongo also posted a photo to Instagram after Cleo was born, with the caption:
i don't remember this photo being taken or anything about the last 24 hours but bb girl has finally arrived. Completely enamored with 6lb 10oz Cleo James born this morning at 6:01. She's everything.
Prior to Cleo's birth, the couple posted some seriously witty and hilarious Instagrams of Perlongo's pregnant stomach cleverly hidden within the photo. For example, Schulman share this perfect October image: (Perlongo's stomach appears to be a pumpkin.)
He even also made what looks like a mini island getaway while Perlongo was taking a bath:
Sure, to many people, Schulman and Perlongo might be "young" parents who are "throwing their lives away," but it is clear that they are going to shower Cleo with love. And they definitely will be those parents who find humor and optimism in every single moment they have with Cleo.