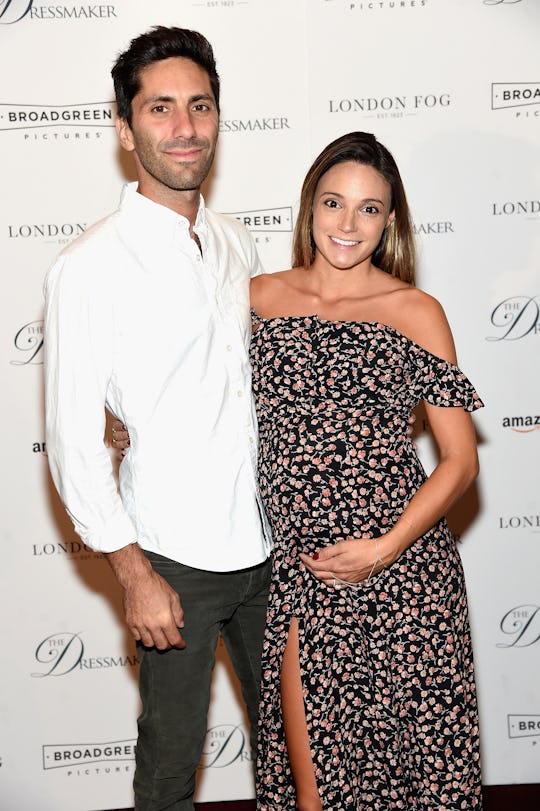 Jamie McCarthy/Getty Images Entertainment/Getty Images
'Catfish's Nev Schulman & Wife Laura Perlongo Adorably Reveal They Have Baby #2 On The Way!
Since his time as the host of MTV's Catfish, fans have gotten to know host, Nev Schulman. Even though his own love life might not be the focus of the show, Schulman's role as a husband to his wife, Laura Perlongo, and father to their daughter, Cleo, is fun to follow. And on Wednesday, the couple had one very awesome announcement to make — Schulman and Perlongo are expecting baby number two and their pregnancy announcement could not be any more adorable.
Both Perlongo and Schulman took to Instagram to share their very important news with the world, through the cutest photo shoot. In one of the photos, posted to Schulman's Instagram account, Schulman, Perlongo, and Cleo can be seen looking inside of an oven at a bun (get it?). "We've got a bun in the oven!," Schulman captioned the photo. "See you in January lil' guy."
Over on Perlongo's Instagram, she had a more honest view of her pregnancy. In her announcement, she posted a photo of her, laying down on the couch completely relaxed, while Cleo cries, holding on to her Elmo doll, and Nev looks on, absolutely terrified. "Cleo is getting a baby brother!," Perlongo captioned the photo.
This announcement is major for so many reasons — not only does it break the big news, but it also reveals that Perlongo is due in January and that they are expecting a boy. Talk about a reveal, right?
See? Even Cleo looks thrilled to become a big sister.
It has been two years since Perlongo and Schulman welcomed Cleo on Oct. 21, 2016, according to Us Weekly, and at the time, Schulman was so excited about the birth of his daughter. After she was born, Schulman took to Facebook, where he had the absolute sweetest things to say. Schulman wrote, according to Us Weekly:
I am speechless. No words can express the complete joy and total awe I feel for my beautiful partner and the tiny angel we created. I've never been so in love.
But their pregnancy announcement had been a little more untraditional. In May 2016, Perlongo penned an essay for Attn. announcing that she and Schulman were expecting — but it also revealed how they found out that Perlongo was pregnant, and their decision to keep the baby. "I'm pregnant accidentally on purpose," Perlongo wrote.
In the essay, Perlongo wrote that she had only been dating Schulman for seven months at the time they found out she was pregnant. But in spite of them not planning the first pregnancy, she wrote that they were both ready for what was to come. "Nev and I certainly have no idea what we're doing, we just know we're doing something that we want to be doing," Perlongo wrote. "Mainly we're just really happy and excited."
Three months after Perlongo wrote the essay, she showed up to the red carpet of the MTV Video Music Awards with her bump on full display — and by looking at photos of them, you can sense that excitement.
But a lot has changed in the past two years. After welcoming Cleo in October 2016, the couple married on July 22, 2017, according to People. But now that they have a bit more of an idea as to what they're doing when it comes to parenting.
Although they've been parents for two whole years and have had some time to figure things out, Schulman told Us Weekly last month that he does get dad-shamed when he shares bits of his life on Instagram. Not that he seems to mind — Schulman told Us Weekly that when that happens, fans tend to rush to his defense.
And those same fans are so excited about Schulman and Perlongo's newest announcement, taking to the comments of his most recent Instagram photo to congratulate the couple. "Congratulations!!" one commenter wrote. "Such a beautiful family."
"Aww fantastic news!!" one fan added.
"Oh they're pregnant I thought it was a video on making bread," one hilarious commenter said.
It seems like everyone (with the exception of Cleo) is excited for Schulman and Perlongo. And they will be even happier when their little boy arrives in January.