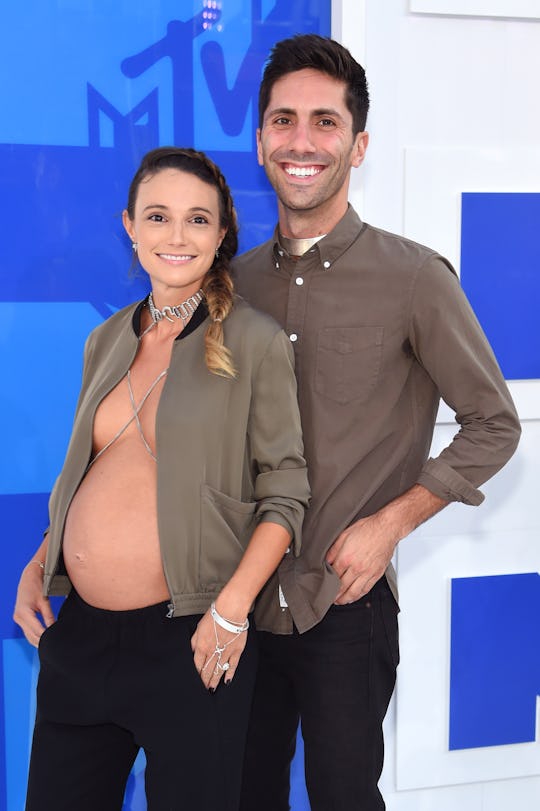 Jamie McCarthy/Getty Images Entertainment/Getty Images
Nev Schulman's Pregnant Fiancee Laura Perlongo Wore An Open Shirt To The VMAs
Nev Schulman and Laura Perlongo have been extremely open about their relationship and her pregnancy, but the two have taken it to another level and are now reflecting that openness in their wardrobe. Nev Schulman's pregnant fiancée Laura Perlongo wore an open shirt to the VMAs, revealing Perlongo's baby bump and a whole lotta cleavage. Besides the chest and belly showing, Schulman (known for MTV's Catfish) and Perlongo matched in army green tops and dark bottoms. The two were all smiles —maybe they're in on the silliness of it all, too?—and, at the risk of a cliché, Perlongo was definitely glowing. Perlongo's in her third trimester, and her chest was accented by a sparkly choker-bra combo. Her nude heels were a nice contrast to Schulman's dark shoes.
In a blog post that she published this past May, Perlongo detailed how she was pregnant with Shulman's baby. Though it was totally unplanned and she and Shulman had only been "dating long-distance 7 months (with a break in August)," they were both "optimistic and in love" and willing to commit to the pregnancy. After dealing with the doubt of family and friends, they've managed to emerge just as committed. Perlongo concluded her post: "Nev and I certainly have no idea what we're doing, we just know we're doing something we want to be doing." They're excited to be parents and are dedicated to doing good by their baby, despite the stereotypes about millennials that might suggest otherwise. They're ready.
Twitter responded to Perlongo's open jacket with, well, confusion. Most users didn't really know what to make of Perlongo's bare stomach. Many are awaiting an explanation from the pair: Was this just to be edgy? To make a statement about motherhood? Was it a humorous gesture? Or something else entirely? Some photos (like the one below) show Schulman kissing Perlongo's belly, as the two seemed to use MTV's white carpet for their very own pregnancy shoot.
Perlongo's newly-minted Twitter describes her as a "writer, photographer, artist, aspiring bby mama," and her profile image shows her open, pregnant belly. Her Instagram shows plenty of pregnancy pictures, too, including this super sweet (and detailed) sonogram. Obviously, she's stoked about her pregnancy, and maybe the outfit choice is as simple as that; it was all meant to celebrate the future life of her new baby girl. If enthusiasm is any indication, Schulman and Perlongo will be super dedicated parents. Hats (and shirts) off to them!