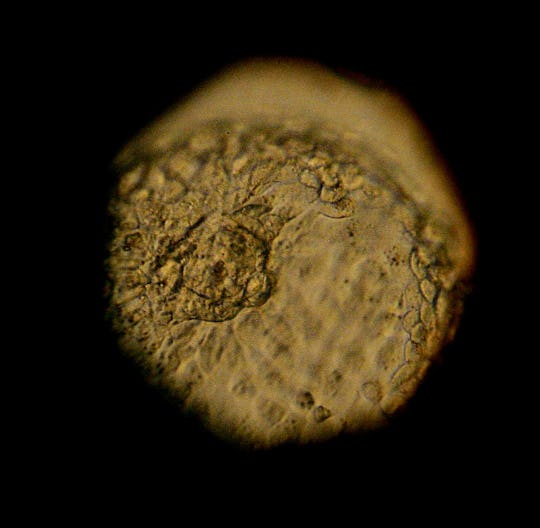 Sandy Huffaker/Getty Images News/Getty Images
New Calculator May Help Predict The Best Time For Successful IVF, New Study Claims
For years, women looking to conceive have been able to track their ovulation cycles to know when is the best, most fertile time to try to get pregnant. Now, for couples thinking about using the in vitro fertilization, or IVF, method there's reportedly a new calculator that may help predict the best time for a successful IVF treatment before they undergo the costly infertility procedure, a new study claims. The new findings may be able to alleviate the burden of guessing, as the predictability factor traditionally could not be assessed until after a couple completed at least one round of IVF — a technique that allows doctors to assess the quality of sperm and eggs if the first round proves to be unsuccessful.
The recent study — conducted by the University of Aberdeen in the United Kingdom — suggests that the "pre-treatment" calculator will be able to help women get an estimate of their best chances of having a baby before that first cycle of IVF is completed, which can take both emotionally and financially draining.
"I don't think women would want to undergo their first cycle of IVF just to determine their chances in future cycles - I think their aim would be to have a baby in that first attempt," lead study author Dr. David McLernon told Fox News.
While the authors caution that the calculator can't and doesn't address every factor that may influence the likelihood of conception, important pre-treatment indicators are age and the number of years the couple has experienced infertility.
Using the calculator is very simple. You'll first need to go to the calculator's website, and then you'll submit the following information:
Your age
The number of years you've been trying to concieve
If you have an ovulation problem
If you have an unexplained fertility problem
If you have been pregnant before
If you have a problem with your tube
If your male partner has a fertility problem
If you plan to use IVF or ICSI (Intra-cytoplasmic sperm injection).
After you enter all of the information, the calculator will show you your percentage of having a baby through IVF or ICSI. For example, according to the study, if your percentage show 42.72 percent, that means that out of 100 couples having 1 cycle of IVF, approximately 43 of them would result in a pregnancy.
As for how the calculator gets to that number, according to Fox News, the study's researchers examined data on 113,873 women with 184,269 complete IVF cycles. They found that 29 percent of the women who had undergone IVF had a baby after one cycle and 43 percent were able to conceive after six complete IVF cycles, with age and the number of years that the couple had experienced infertility as important factors.
For example, according to Fox News, women who were 31 years old before the first cycle of IVF were 66 percent more likely to have a baby than women who were 37 years old, while couples were 9 percent more likely to have a baby after three years of infertility than after six years of trying.
While the calculator could be a helpful tool for couple's researching the method, it should be noted that the success rate is only an estimate and only a fertility and reproductive specialist will be able to give a full analysis. A doctor's visit will be able to help consider other factors that are specific to each couple's specific situation, things are not and can not be included in the model.
IVF is a costly procedure, so any additional information that can help couples make the right decision as to how they want to create their family is beyond beneficial.