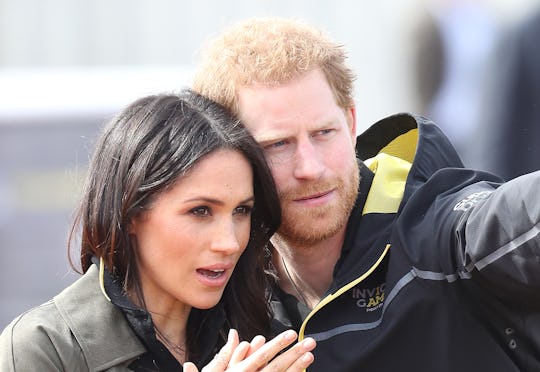 Chris Jackson/Getty Images Entertainment/Getty Images
This New Info About Meghan Markle & Prince Harry's First Date Will Seriously Make You Swoon
The royal wedding is so close and yet so far away. Thankfully, a new biography of Meghan Markle has some previously-unknown details to tide fans over. Specifically, Meghan: A Hollywood Princess, by royal biographer Andrew Morton, reveals new info about Meghan Markle and Prince Harry's first date. And yes, it's all very romantic and sweet.
Page Six published an excerpt of the book on Monday, in anticipation of its Tuesday release date. Morton gets into what was going on in both Markle and Prince Harry's personal lives at the time that they were set up on a blind date in July 2016. According to Page Six, Markle had come to London to promote the new season of her TV show Suits and to go to Wimbledon, on the heels of a breakup with her previous boyfriend, a Canadian restauranteur, and a bachelorette party in Greece for her college friend. Prince Harry, meanwhile, had just come back from France, where he was commemorating the 100-year-anniversary of one of World War I's bloodiest battles, Battle of the Somme. Both of them had reportedly been expressing to friends that they were ready for a change.
Luckily, as The Cut reported, they had a mutual friend who was reportedly interested in doing a little bit of matchmaking, namely Ralph Lauren PR Director Violet von Westenholz.
According to Morton's book, as Page Six reported, Markle met up with another friend, Gina Nelthorpe-Cowne, for lunch on the day of the date, and Markle was super-excited. As Nelthorpe-Cowne said in the excerpt, according to Page Six:
[She] told me, "I'm going on a date tonight . . . With Prince Harry!''. . .  She whispered it so quietly I had to ask her to repeat it. I couldn't believe what I was hearing but I think she could barely believe it either. We were both extremely excited.
Still, Markle was clearly trying to manage her expectations, as one does when one is about to go on a blind date with the freaking PRINCE OF ENGLAND. Nelthorpe-Cowne continued:
I jokingly asked if she knew what she was letting herself in for and she said: "Well, it's going to be an experience and at least it will be a fun night."
Clearly, it was a fun night, but also much, much more.
The two reportedly had their first date at the members-only Soho House club in London, at Dean Street Townhouse, according to Architectural Digest, where they managed to get at least a little bit of privacy, no easy feat for Prince Harry. And it reportedly went so well that they immediately scheduled another date for the very next night. According to Page Six, Morton wrote in the excerpt:
At the end of the evening, they said their goodbyes and went their separate ways, he to Nottingham Cottage at Kensington Palace, she to a hotel room at the Dean Street Townhouse in Soho, London. Both were buzzing. As Meghan relived the fateful evening in her mind, she perhaps wondered if she had been too eager to accept his invitation to meet again the following day.
Soon after, Markle had to fly off and continue her publicity tour for Suits. But then, as was already public knowledge, Markle joined Prince Harry on a safari in Botswana in August, according to Town & Country. And that's where, reportedly, the two really cemented their new love.
Markle's friend Nelthorpe-Cowne, according to Page Six, had plenty to say about that for the excerpt too:
I'm sure that the Botswana trip is what clinched the deal. When they were back, she showed me the most wonderful photographs of the two of them on her phone. They were so clearly already in love. She told me it was serious and they had started discussing the future. She said they'd said to each other: "We're going to change the world."
(Honestly, I'm wondering if Markle still considers Nelthorpe-Cowne a trusted confidante after this...)
Now, will the royal wedding just hurry up and get here already?
Check out Romper's new video series, Bearing The Motherload, where disagreeing parents from different sides of an issue sit down with a mediator and talk about how to support (and not judge) each other's parenting perspectives. New episodes air Mondays on Facebook.