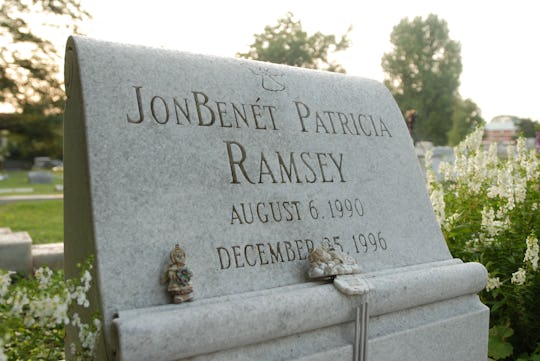 Barry Williams/Getty Images News/Getty Images
New DNA Test Hopes To Find Out Who Killed JonBenet Ramsey After 20 Years & No Answers
On Dec. 26, it will be 20 years since JonBenét Ramsey was found dead in her Boulder, Colorado, home. The 6-year-old beauty pageant participant would be just a few years out of college, exploring her mid-20s if she was still alive. There's no knowing what Ramsey could have been when she grew up, as she never got that chance — and her killer has never been identified. However, according to Wednesday's episode of The TODAY Show, Boulder, Colorado, authorities confirmed Tuesday that they will use "new DNA technology" to find out who killed JonBenét Ramsey in 1996.
At the time of JonBenét's death, her parents John and Patsy, were under the harsh glare of the media and disturbing accusations implicating their involvement in their daughter's death. It would be another 12 years before John and Patsy Ramsey were publicly exonerated by Boulder County District Attorney Mary Lacy — "based on irrefutable DNA evidence," according to a statement sent to Romper by L. Lin Wood, the Ramsey family attorney. But what about JonBenét's older brother, Burke? Wood told Romper in a separate statement that the Boulder County Police Department publicly confirmed in 1999 that Burke was not a suspect — nor was he even a "possible suspect" — in the death of his sister. Wood did not immediately return Romper's request for comment regarding new DNA testing by Boulder authorities, but there's no reason to believe that past DNA evidence would contradict any new evidence.
If a new DNA test could finally provide answers in the murder of JonBenét Ramsey 20 years later, what was does this mean for the Ramsey family?
Update: L. Lin Wood, attorney for the Ramsey family, provided the following statement to Romper after publication:
The Ramsey Family was publicly exonerated in July of 2008 by the Boulder District Attorney based on DNA evidence and firmly believes that DNA evidence will eventually identify the man who murdered JonBenét. So the family is pleased to see this renewed investigative activity and is hopeful it will result in progress.
In a joint investigation between The Daily Camera, a Boulder-area newspaper, and Denver news station KUSA-TV, they claimed their findings revealed that certain DNA testing performed on JonBenét's underwear was flawed. Specifically, they claim the investigation found that the flaws in the DNA tests conducted at the time could potentially throw into doubt the 2008 exoneration of the Ramsey family by the Boulder DA's office. As a result, Boulder authorities reportedly intend to use more sensitive DNA testing kits that didn't exist at the time of JonBenét's death. These more sensitive DNA test kits would be able to the FBI's Combined DNA Index System, which contains DNA data for more than 15.1 million offenders and arrestees.
Still, the allegations that the DNA tests done 20 years go were flawed have not been proved. Additionally, the DA's hope that the new DNA tests could show some kind of information is entirely speculation and finger-crossing on their part, and there is still no evidence that implicates the family in the crime.
With the approach of the 20th anniversary of JonBenét's death, several media outlets have sought to capitalize on the murder mystery that captivated America for so long: In September, CBS aired a four-hour, two part docu-series, The Case Of: JonBenét Ramsey. Lifetime also aired its own dramatization of the case, Who Killed JonBenét? in October. Even network television's favorite pop psychologist Dr. Phil spent three full-length episodes airing exclusive interviews with Burke Ramsey, breaking his media silence for the first time since 1996.
Now, the news that Boulder authorities intend to retest DNA evidence collected in JonBenét's murder could have serious implications for the Ramsey family — particularly for their now 29-year-old son Burke. Both the CBS and Lifetime shows made the same allegation: that they claim Burke was behind the crime, even though, again, he was not a suspect and there is no evidence that he had a hand in the crime. The CBS docu-series The Case Of: JonBenét Ramsey spelled that out a little too clearly for viewers, according to Burke: He is suing the expert at the heart of the CBS show in a $150 million defamation suit.
While it's entirely possible that newer DNA testing might not reveal anything new in the JonBenét Ramsey murder case, it's still a worthwhile cause to finally put some closure on a case 20 years old.