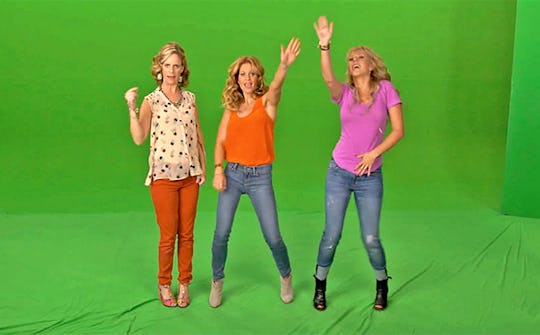 New 'Fuller House' Teaser Features DJ, Stephanie, & Kimmie Doing The "Whip/Nae Nae" — VIDEO
The release of Netflix's Fuller House on Feb. 26 is of course capitalizing on nostalgia. I mean, we're talking about a series from our childhoods that has inspired many a viral list in recent years, one that reminds us of just how much we loved eating Fruit By The Foot in our scrunchies while sitting in front of the TV watching it. But, in its latest teaser, Fuller House is bringing things up to date, with video of DJ, Stephanie, and Kimmie doing the "Whip/Nae Nae."
So, it's not exactly the most nostalgic thing to watch and quite a departure from Fuller House's first teaser, which brought fans to tears with its silent tour through the Tanners' old house, punctuated with a look at a seemingly older Comet. (It also seriously creeped some fans out when it was set to horror movie music, as this video proves.) But the teaser, at the very least, proves that the cast — Candace Cameron Bure, Jodie Sweetin, and Andrea Barber — are up for anything. Well, except for Barber, who didn't quite bring it as much as her on-air best friends. And as much as we all know Kimmie Gibbler would. C'mon!
Take a look at the new teaser below:
And, if you need a cry more than a laugh, see the first trailer again below!
But, like, I also wouldn't object to Comet doing the "Whip/Nae Nae." Another teaser please, Netflix?
Image: Netflix