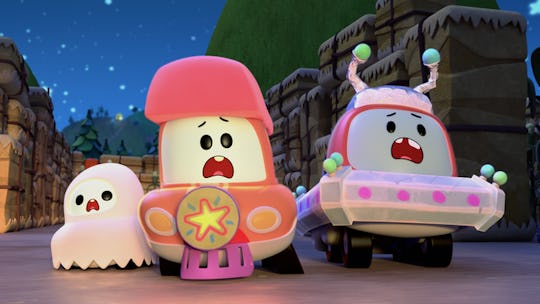 Courtesy of Netflix
Netflix Has So Many Fun, Not-So-Spooky Halloween Movies & Shows Coming In October
Come October, there's nothing more seasonally appropriate than watching a spooky flick. And if you've got little ones at home, you'll be pleased to know there are several new Halloween movies and shows coming to Netflix that will have the whole family feeling ready for All Hallows' Eve.
Along with some classics from throughout the year, Netflix is coming out with a lot of new specials that will be released throughout October. On the list of what's new for 2020, another adventure with the Super Monsters — Super Monsters: Dia de los Monsters. In this special episode, the children of famous monsters attend a traditional Dia De Los Muertos parade in Vida's home town where they meet some new Super Monsters and make fast friends. This episode will be released on Oct. 9, but this is just the beginning of all of the fun content poised to get you in the Halloween spirit.
From special Halloween episodes of your kids' favorite series, to movies centered around the scariest night of the year that aren't that spooky, there's something for everyone in Netflix's 2020 lineup of Halloween content. So mark your calendars and prepare for a fun Halloween streaming marathon this year.