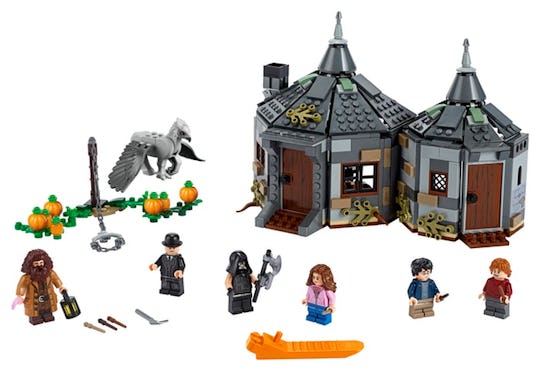 OMG, There's A LEGO Yule Ball, Buckbeak, Sirius, & More In The New Harry Potter Sets
I am a rabid Potterhead and such an extreme fan that my husband had to convince me that we couldn't name our son "Neville" because literally every third millennial in Brooklyn had already used it. I am so obsessed that my home could double as a gift shop for the Wizarding World of Harry Potter at this point, complete with the amazing LEGO Hogwarts from last year. Now, LEGO is giving me the vapors by releasing tons of new Wizarding World of Harry Potter LEGO sets that include everything from Hagrid's Hut to Harry's Patronus, and I'm schvitzing.
Six brand new Wizarding World of Harry Potter LEGO sets are releasing on August 1. They are amazing and feature everything from scenes inside Hogwarts to the Triwizard Cup — all from Harry Potter and The Goblet of Fire. Fans of the Rowling-created universe will delight over the depictions of Harry's patronus, the Hungarian Horntail, and the wonderful Buckbeak. (Even if his executioner from the ministry and the Minister of Magic loom large in the background.) Not to worry, though, because Hermione is wearing her time turner, and she's ready to save the day — as per usual. Each character even has their own wand, proving that LEGO went that extra mile for us Potterheads.