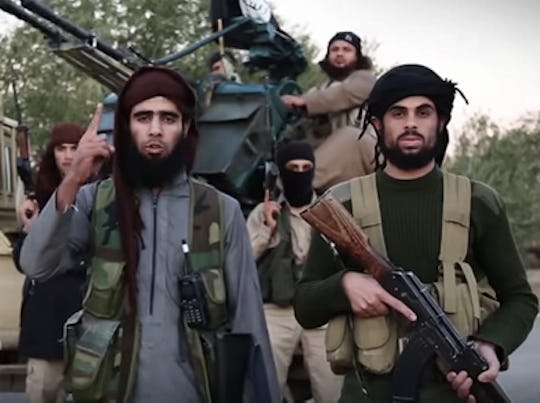 Breaking News/YouTube
New ISIS Video Threatens Washington Attack, & Warns Other Countries Who Participate In Airstrikes
On Monday, just days after the gruesome terrorist attacks in Paris, a new ISIS propaganda video threatening an attack on Washington. The video, which the Washington Post reports was released by an Iraqi ISIS group called Wilayat Kirkuk, discusses the French attacks and praises the killings, even showing footage in Paris of the aftermath of the attacks where victims were being carried away in body bags. The six-minute-long video also shows footage of French president Francois Hollande speaking to the media following the attacks and publicly condemning ISIS.
A man identified in the clip as "Al Ghareeb the Algerian" speaks about plans for future terror activity against countries supporting the military effort against ISIS, and claims that the United States should expect a similar ISIS-led attack in the coming weeks. Calling the military action in Syria a "crusader campaign," Ghareeb warns that "by God, as we struck France in the center of its abode in Paris, then we swear that we will strike America at its center in Washington." Ghareeb also threatens further attacks in Europe, claiming that ISIS "[is] coming, coming with booby traps and explosives, coming with explosive belts and gun silencers and you will be unable to stop us because today we are much stronger than before."
Although France has been involved in a military campaign against ISIS in Syria since September, they have since ramped up their efforts following Friday's terrorist attacks, with Hollande calling it "an act of war."
Watch the video in full below:
Image: Breaking News/YouTube