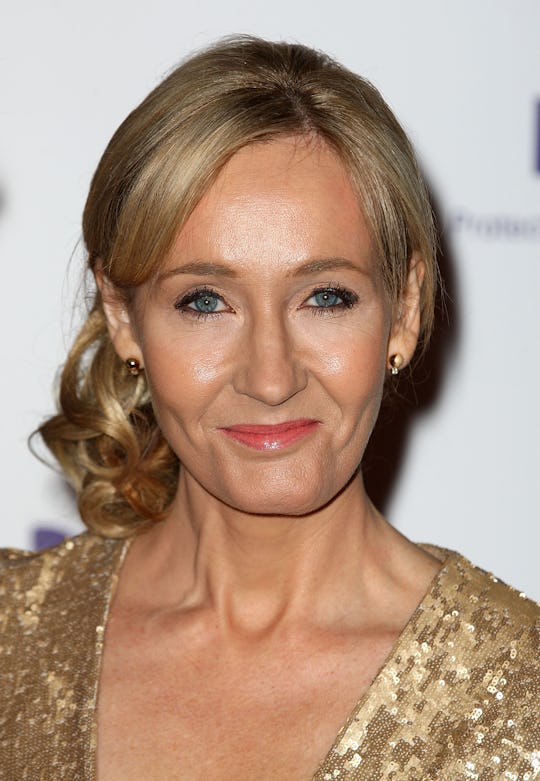 Danny E. Martindale/Getty Images Entertainment/Getty Images
New JK Rowling Stories Offer A Peek Inside America's Hidden Magical World
I spent the majority of my day yesterday (after devouring a four-course brunch, of course), marathoning Harry Potter movies. I thought that re-watching all eight films would set me up for a successful week, but then news dropped this morning that new J.K. Rowling stories would highlight America's Wizarding World, and to be honest, I feel like it's my very own personal Christmas in March. According to Entertainment Weekly's exclusive, The History of Magic in North America, J.K. Rowling's newest series, which will include four original stories, will debut later this week on Pottermore. And the magical site will be the only place you'll be able to read them. (So sign up immediately, magical brethren!)
Though there's tons of buzz surrounding the release of Fantastic Beasts and Where To Find Them later this fall (and the fact that it will be three movies!!!), the news that four all-new stories penned by Rowling are about to drop is enough to make my own Potterhead spin. Though J.K Rowling is never far from my heart or my head on any given day, news that there's going to be even more knowledge to pen through about the magical history of my own country has given way to a whole new kind of excitement. Sure, new stories will undoubtably make me miss Harry, Ron, and Hermoine more than ever (and Dobby, because I will never get over Dobby so long as I live and breathe), but I'm OK with that if it means I get a peek inside the magical world I so desperately want to be a part of.
The first installment of the four-part series will release March 8 at 9 a.m. (which, in case you haven't had your coffee yet, is tomorrow), and you can check out an exclusive clip of what's to come on Entertainment Weekly's site. Or watch it here, whatever:
Here's what we can expect from the first story: we'll learn a good deal about America's magical history; get familiar with the U.S.'s version of Hogwarts, Ilvermorny; get a taste of narrative surrounding the Salem witch trials; learn about the Native American legend of skin-walkers; and get up close and personal with the Magical Congress of the United States of America (America's version of the U.K.'s Ministry of Magic). The video teases that the "history of America is more magical than you could ever imagine," and to be totally honest, that makes the fact that I need to wake up and function tomorrow morning much more effortless than any promise of coffee ever could.
Nothing has ever made a Monday more beautiful than this news. Seriously. Thank you this gift, J.K. Thank you.